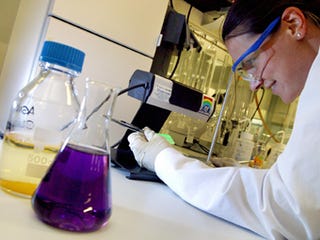 You guys, right after we
posted
about how teenage girls have no interest in becoming scientists or engineers, we got an email from a young engineer! She has no idea what to wear in the "business-casual" workplace.
Trousers
and a shirt with a
cardigan
comes to mind, but maybe you guys have some other suggestions? Click the scientist at left for details from reader "G."
I am a young (female) mechanical engineer, and have just graduated from college. Anyhow, I am starting my first serious job, and would like to know what to wear in the business-casual workplace. Do I accent my femininity? Play it down? As you can imagine, this is a male-dominated field, so there aren't many female examples to look at in this case. I also worry about being taken seriously if I am trendy or stylish. Sometimes engineers will look down upon you if you put effort into looking put together- as in, you should be too busy with your work and such to be getting regular haircuts. In interviews, I always made a point to wear pantsuits as opposed to skirt suits so as not to seem to "girly"... as in "I could fit in here, I'm just like you guys!" I appreciate the posts Jezebel does about women in the sciences. We've started a program at the local high school to expose the girls there to engineering fields, so hopefully things will be looking up in terms of gender parity.... In the meantime, any advice you can offer will be greatly appreciated!