The challenge for the final four designers on last night's episode of
Project Runway
was to design an evening gown inspired by nature. There was a field trip to the New York Botanical Garden, and the contestants took pictures of flora. Then the tears started to flow! Kenley cried while talking about growing up on a tugboat, and also, no one would give her any tulle. Leanne cried because she's wanted to show at NY Fashion Week since she was 12, and because she had a lot of work to do. Jerell cried because he was living all alone in an empty apartment in the sky. (He also cried while ironing.) Korto cried because she is married, with a kid, and this is her big chance! On the runway, everyone's dresses were crappy, but the big drama occurred when Heidi Klum asked each contestant why he or she should go to Fashion Week, and which other designers should go. Jerell spoke first, and Kenley
totally interrupted him
while he was talking. Clip above; hideous dresses after the jump.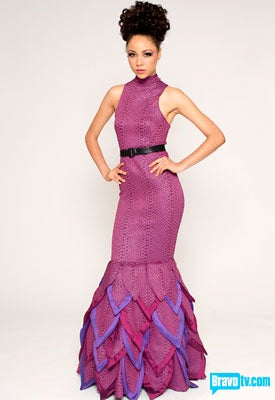 Kenley's dress was inspired by purple leaves. Jerell said it looked like "Kenley the dragon slayer" or a "purplezilla costume." Tim Gunn thought the bottom of dress looked like fish scales, which Kenley took as a compliment. I wanted to smack Kenley when she said, "I wasn't going for elegance, Heidi." You do not get snippy with Heidi Klum!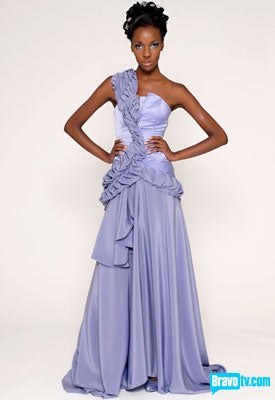 Guest Judge Georgina Chapman (sure, she runs evening gown company Marchesa, but she's also conveniently married to producer Harvey Weinstein!) loved Leanne's gown, which was inspired by a blurry picture of lavender flowers. But Michael Kors thought there was no "joy" in the elaborate ruching.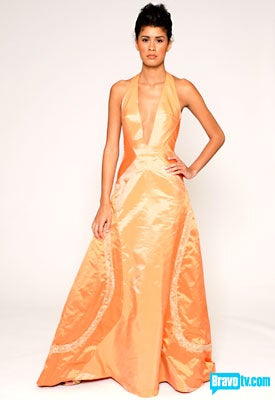 Michael Kors thought Korto's evening gown contained "every cliché." Nina Garcia seemed angry, and Georgina Chapman looked disappointed.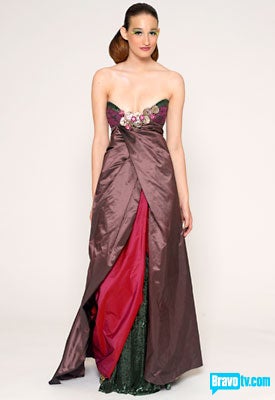 Jerell was the winner of this challenge, even though his hem was totally unfinished, messy and wonky. Still, his gown inspired by layers of rose petals was one of the better ones on the runway. So: The "twist" is that all four designers will go home and create collections, even though only 3 will "compete" on the runway at Bryant Park. When I was watching the shows during Fashion Week, I felt sure that the three ladies were the three finalists; now I'm not so sure! In case you want to see the collections again, find them here:
Project Runway Fashion Show: Jerell
Project Runway Fashion Show: Korto
Project Runway Fashion Show: Leanne
Project Runway Fashion Show: Kenley
Project Runway Season 5
[Bravo]