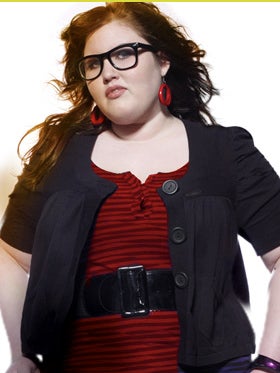 A promo for
Stylista
, the reality show in which contestants compete to become
Elle
fashion editor Anne Slowey's new assistant, has hit the internet, and we're not going to lie: it looks bitchily
delightful
. What's troubling, however, is the treatment of the one plus-sized contestant, Danielle (pictured). The promo announces, "Fashion isn't about playing nice, it's war," before launching into footage of a series of fights between contestants. One snotty looking girl says, "If you're going to work in this industry, then you have to change your body for it," after which the producers show a few shots of Danielle looking at herself in a mirror, perturbed. Then Danielle says, "Believe me I want to look different. There are things about me I want to change."If this trailer indicative of the entirety of
Stylista
, than the show's message is clear: in order to work behind the scenes of the fashion industry, you need to fit the limited vision of its glossy exterior.
Click to view
The saddest part is that some of the most revered arbiters of fashion, the late, great
Isabella Blow
and the still fantastic
Suzy Menkes
are far from the fashion world "ideal," and obviously, the runway world would be much bleaker without their contributions. Looks like poor Danielle will be put on the
Anne Slowey diet
or given her marching papers.
Sneak Peek: Stylista Looks Sinfully Good
[E! Online]
The Fashion Week Food Diary: Anne Slowey
[NY Mag] Earlier:
The Last Days Of Mademoiselle: Cocaine, Cigarettes & Calorie Counts