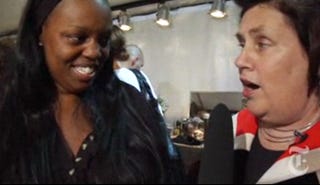 If you've ever seen some gorgeous, theatrical makeup and wondered, who
does
that? It was probably Pat McGrath, one of the most celebrated makeup artists in the fashion biz. She did the faces for the Christian Dior Spring 2009 show, and in a recent
interview
with the
International Herald Tribune
's Suzy Menkes, McGrath talks about her work. John Galliano's show for Dior was "lightly based" on "Africa." (Maybe you saw the
sculptural hair
and
fertitlity idol shoes
?) In any case, this translates to "very modern, very healthy, very glowing" make up for day and a "smoky eye" and "dark chocolate" lips for evening. But those (rather wearable) looks were
nothing
compared to what Pat McGrath has created in the past: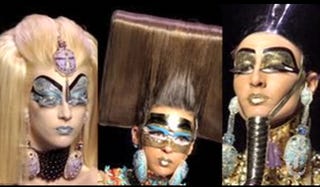 Her makeup for Dior's 2004
"Egypt" collection
was exquisite: glittery, exaggerated eyes and metallic lips. Suzy Menkes says that McGrath, who was raised in England by a Jamaican immigrant mother, is responsible for "artist's creations." And looking at some of the bizarre, beautiful faces McGrath has created, you can't help but agree: It's art. Albeit art that gets washed down the drain with soap and water.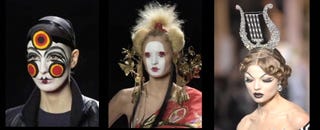 Menkes also asks McGrath about the lack of diversity on the runway. McGrath's answer is genius in its simplicity: "It's old fashioned, isn't it."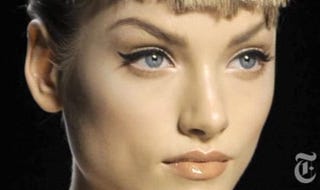 Brush Strokes
[NY Times] Earlier:
Fashion Show: Dior