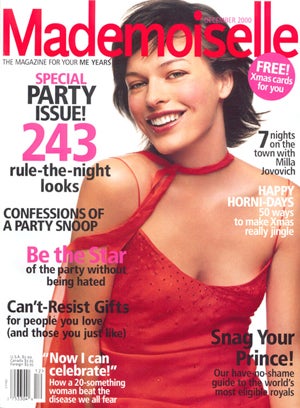 I used to really like
Mademoiselle
magazine. Not as old or cold as
Vogue
, not as dull as
Glamour
, not as do-goodery as
Marie Claire
, not as ditsy or sex-addicted as
Cosmopolitan
. Though the magazine folded in 2001, when it first started, in 1935, it was known for publishing short stories by authors like Truman Capote. Sylvia Plath worked as a guest editor there in 1953. The publication's tagline, in
1954
, was: "The magazine for smart young women." Smart!Now Valerie Frankel, a former editor at
Mademoiselle
, has a
book
called
Thin Is The New Happy
, in which she details her experiences at the magazine. What does she say about working at the glossy for smart young women? "I did more blow in my first two years at
Mademoiselle
than in college, when I lived with a coke dealer." Plus: "Self-starvation was a competitive sport. At staff lunches, the girl who ate the least won," Frankel writes. "During downtime, we'd sit in our offices smoking cigarette after cigarette (to quell hunger) and talking about who ate what, the calorie counts of our lunches, the latest dieting trends, who on the staff looked heavy." Oh, and by the way, Frankel had a sex column, in which she may or not have dispensed advice. While
high
. Coke psychology! What I hate about stories like this is that it reinforces some shitty stereotypes, namely that women cannot work together without life being a living hell, especially in the magazine industry. But what I'm guessing is that things probably haven't changed that much. At the time,
Mademoiselle
was owned by Condé Nast. Frankel says human resources told new hires to "represent the magazine in [their] personal appearance," and the office motto of sorts was "get thin or die trying." Hence the "hillocks" of coke and the co-worker who carried a scale to weigh everything she ate. But even though
Mademoiselle
has folded, Condé Nast still owns and operates
Vogue
,
W
,
Glamour
,
Allure
,
Self
,
Teen Vogue
,
Lucky
,
Brides
and
Modern Bride
. What are the chances that those publications are being run by women involved in drugs and starvation?
Tales From 'Mademoiselle': 'Self-Starvation Was a Competitive Sport'
[NY Mag]