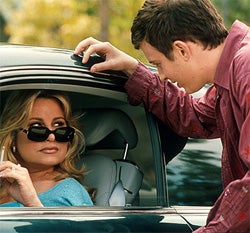 Upon hearing the news that the website
www.voteforthemilf.com
redirects to John McCain's campaign website,
Jessica Valenti of Feministing
asked, "Hasn't 'MILF' jumped the shark yet?" Oh, GOD, if only. How has this phrase, like,
not
jumped the shark yet? Hasn't the phrase "MILF," in its all-encompassing reach of every single woman that has ever birthed a child, lost all its meaning? Can we retire it on lameness alone, since the misogynistic implications that
most
women who have carried a child to term aren't fuckable hasn't worked in ridding the world of it?Look, I get it. The stereotype of mothers is that they are sexless, uninteresting parentbots with floppy vaginas, saggy breasts, big asses and no interest in sex. And so when a woman
just happens
to be attractive and, God forbid, sexual and interested in sex after giving birth to a child — let alone raising one to adulthood, as was the original meaning of the term "MILF," now lost in the plethora of MILF-porn featuring women younger than this writer — it's a cause for men's peens to stand at attention and
that
, of course, is the goal of women everywhere. Gag. At least "cougar" has the benefit of imbuing the older woman in question with some agency — because a MILF is, of course, an object for men's lust, while a cougar is pursuing the younger objects of her own. So, look, it's been nearly a decade since Stifler's mom boned the nerdy virgin and brought the term to the mainstream, and I understand that this was probably a seminal (heh) movie for a lot of dudes (and some women) now in their twenties. But it's a stupid acronym that sounds stupid and adding "ILF" to everything under the sun is becoming more annoying than the media's love of adding "-gate" to the end of every political scandal. Just call it a day, dudes who use "MILF." No one needs to know who you'd like to fuck given the chance that you'll never have!. There's just no need to keep pointing out the attractive women who won't fuck you.
Hasn't "MILF" Jumped The Shark Yet?
[Feministing]