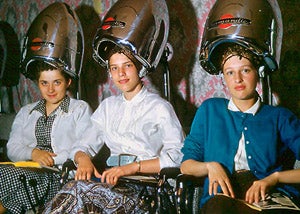 They say the best things in life are free, but according to
Nerve
,
sex has a very real cost.
Nerve editors asked nine people — singletons, married people and non-wed couples alike — how much money they spend in and around getting in and around, from birth control to grooming to dates. The results were traditional in a way that shocked me. Women, even the married ones, tended to spend most of their cash on hair, make-up and clothing in order to make themselves attractive to get laid. Men tended to spend money on women — buying them drinks, meals and event tickets — to get laid.The least stereotypical women that
Nerve
surveyed? "Granola Sunshine," a bisexual woman who tends to go dutch on her dates and the "Long-Distance Cougar" who, despite making only $25,000 a year, spent $115 on a hotel room to meet her 22-year-old lover, while he supplied the rubbers. But both those women are sort of stereotypical in not hewing to stereotypes, so maybe it doesn't count. Even crunchy "Granola Sunshine" spent "$30 for face products from The Body Shop, cooling avocado washes and toners; trying to look good and keep my skin young," while the men surveyed spent almost zero on grooming themselves. Both the single straight men in the survey, "Coffee Yupster" and the "Dude" spent a lot of money wooing women, whether it be on meals out or memberships to dating sites. The saddest lady, though, was definitely "Mom of Two," who is overworked and under-laid. "I don't have much to tell you, sadly. I got a $25 bikini wax, and I think I got to use it all of once," she tells
Nerve
. "A few days later, she bought $240 worth of new clothes 'in order to keep my husband interested and attracted.' Later that week, she got a free pedicure at a promotional event: 'I chose a saucy red called 'Kiss the Cook,' to which my husband responded, 'I prefer it when you paint your toes pink or nude.'" Um, your husband sounds like sort of a dick? You went out of your way to dress up and all he can do is criticize your toenail choices?
Charles Phoenix" />
Everyone Pays For Sex
[Nerve]