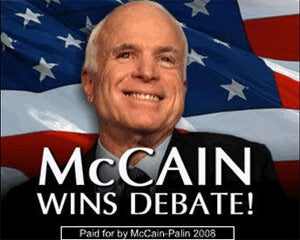 John McCain will be debating after all tonight in Mississippi, and I'll be live-blogging it at 9:00 ET to help you get through it. [Washington Post]
As the ad indicates, McCain started declaring victory in the debate right about the same time he decided to attend it. Talk about lowered expectations. [CNN]
Everyone from his former adviser Craig Shirley to his former opponent Mike Huckabee thinks McCain fucked this up. Ya think? [Huffington Post, CNN]
Aides to Sarah Palin are defying subpoenas issued in response to the troopergate probe of the Alaska governor; seven of them simply didn't appear in court today. Is anyone surprised?