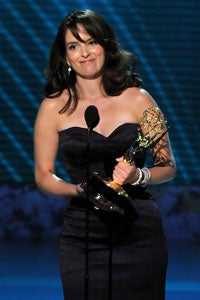 It's rare that you read a celebrity salary report and think "good for you Audrina, you totally
deserve
to be making millions and living in a
three bedroom Tuscan-style villa
in the Hollywood Hills." But that's
exactly
how we felt while reading
Portfolio
's analysis of the mounds of cash Tina Fey is raking in these days. And not just for herself. Since her show
30 Rock
won seven high-profile Emmys this past weekend, Fey's value to NBC "has jumped significantly," according to Steve Rossman, who leads the branded entertainment practice at advertising agency R.P.A. "She is becoming a brand unto herself."
Portfolio
estimates that Fey has earned at least $17 million in her career so far, and predicts there will be "tens of millions — if not hundreds of millions" in her future. In addition to money from her years as head writer on
Saturday Night Live
, her films
Mean Girls
and
Baby Mama
, and
30 Rock
, the new Fey brand is bolstered by new advertising deals and her resemblance to a certain vice presidential nominee. It is estimated that Fey earned about $1 million for her American Express ads with Martin Scorsese and her appearance as Sarah Palin on
Saturday Night Live
two weeks ago has also proven to be profitable: The much-hyped opening skit gave
SNL
its best season premiere numbers in seven years. Though you may not care that NBC found a cash cow in Tina Fey, it's very good news for fans of
30 Rock
because it ensures our favorite geeky girl a place on their lineup, even though the show's ratings still aren't fantastic.
30 Rock
only averaged 6.5 million viewers last season, but it is still considered a hit by NBC because its young and affluent audience is attractive to advertisers and NBC executives have said publicly that the show's popularity on DVD and online downloads are valuable to the future of the company. The
Portfolio
article speculates that there may be a limit to Tina Fey's brand appeal, raising the question, "Is anyone going to buy a Tina Fey fragrance?" As Fey-natics, we may be the wrong people to ask, but we could definitely see Tina marketing her own line of "Tina Fey spectacles" and would rather find Ms. Fey's Frozen "Sandwich Day" Sandwiches on the shelf next to our Hot Pockets than anything with Rachael Ray's face on the box.
Fey Day
[Portfolio.com]