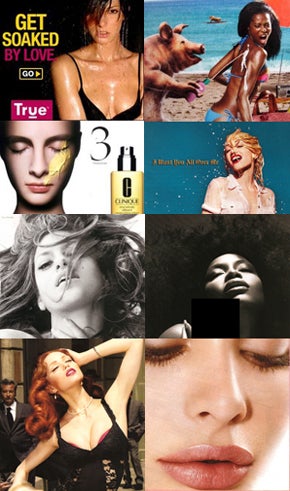 We've written about advertisers taking
cues
from
porn
a few times. But it's not just ads: With David Duchovny in rehab for sex addiction, Christie Brinkley's ex-husband's $3,000-a-month Internet porn habit in the news, nymphet Miley Cyrus in
Vanity Fair
and Kim Kardashian — famous for having a sex tape — as one of the "stars" on
Dancing With The Stars
, explicit sex references are constantly (heh) in our faces. Writes
Salon
's Tracy Clark-Flory: "In order to consume porn, one no longer has to sheepishly ask the checkout clerk for a copy of
Barely Legal
, or slump down in the back row of an X-rated movie theater, because porn is no longer marginalized. In fact, it's everywhere you look."Clark-Flory
talks to
Carmine Sarracino, coauthor of a book called
The Porning of America: The Rise of Porn Culture, What It Means, and Where We Go From Here
. Sarracino says we have no one to blame but ourselves. He writes:
Over and over again, we follow this cultural pattern of elevating sex symbols, especially blond bombshells like Marilyn Monroe and, lately, Pam Anderson, Anna Nicole Smith — even Courtney Love was such a sex symbol in the '80s — of elevating these women to exalted status when they are at the peak of their sexual allure, and then just trashing them when they begin to lose some of that allure. So we go from adulation to disdain.
Even Britney, Paris and Lindsay went from being put on pedestals to being torn down — and their response? To flash their crotches in paparazzi shots, which Sarracino calls "clearly returning disdain for disdain." Sarracino also talks about how things are just getting worse: "One of the essential things in an entertainment culture such as ours is that the shock bar just has to constantly be raised. People's heads turn only when you offer something like '2 Girls 1 Cup.' That's what traditional porn used to do and that was just two people engaged in a sex act. You can't get attention with that now — any more than Marilyn Monroe could get attention for showing her panties if she were to come on the scene in 2008." And the truth is, there's
money
in porn. We keep hearing "sex sells." You know how feminist magazine
Bitch
was in financial trouble? They're apparently
co-sponsoring
a strip show with um,
Hustler
. But like the title of Sarracino's book: Where do we go from here? When porny images get more and more mainstream, what does the underground look like? And if kids today are growing up where fetishizing the female body is par for the course, where will we be, as a society, in 40 years?
America, Sweet Land Of... Porn
[Salon]
Girls! Girls! Girls! Bitch Magazine's "Feminist Response To Pop Culture" Is To Co-Sponsor A Strip Show With Hustler
[Feminist Law Professors] Earlier:
Advertising Taking Cues From Porn: What Is The World Cumming To?
Sex Sells. Or Does It? Can You Guess The Products Behind The Porny Ads?
Hot For Fall: Toplessness!