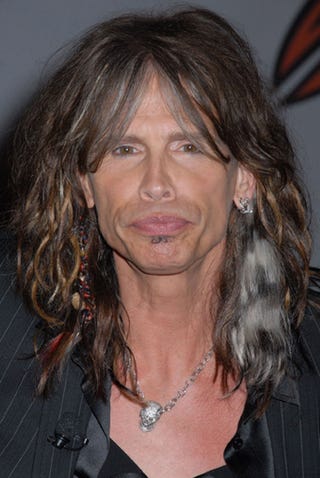 You guys, ageism is a terrible thing, but just stay with me here for a minute: The ladies of a certain age over at WowOwoW.com have lost their freakin minds. Or eyesight. How else to explain some of the choices on the
listicle
called "50 Sexiest Men Over 50"? Sean Connery? Sure. Clint Eastwood? Okay.
Face-lifted
Michael Douglas? Um. Chow Yun-Fat? Yes, please! Pierce Brosnan? Obviously. But some of these other gentlemen, especially in the "musicians" category, are not what one would define as "sexy." Quincy Jones gets a pass, as do Sting, Harry Belafonte and David Bowie. But seriously folks: Steven Tyler?It's easy to "get" guys like Charlie Rose, Bill Clinton and Paul Newman. Richard Branson has a je ne sais quois, so does Vernon Jordan. Richard Gere, Robert Redford, Patrick Stewart and Denzel Washington make sense. But did the ladies run out of steam? Because:
Steven Tyler
. Liz Smith claims what makes a man sexy is "No sense of desperation." wowOwow's Joan Ganz Cooney says: "Sexy at any age is a man who makes me laugh and seems a little dangerous." Well that explains why Keith Richards is on the list. Talk about laugh out loud! And he does seem dangerous. Commenter Lorraine Bates
wrote
, "Keith Richards?? Somebody smokes what he does…"
50 Sexiest Men Over 50: wowOwow's 2008 50-Over-50 List
,
50 Sexiest Men Over 50 (slideshow)
[WowOwoW]