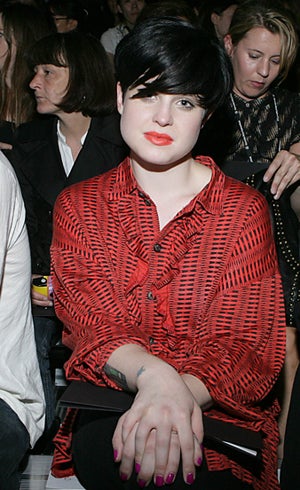 It's been announced that Kelly Osbourne is going to write a memoir. Not just any memoir, but an
inspirational autobiography
, which "will draw upon her own extraordinary experiences to help other young women as they negotiate the minefield that is growing up." Oh, so it's part life story, part self-help? Well, Kelly had better add some extra stuff into her book: She's only
23
. A few months ago, it was
reported
that Miley Cyrus,
fifteen
, is writing a memoir. Writes the
Guardian
's Oliver Marre, "As autobiographers get younger (a trend you may have noticed), so the need to explain that their books are more than just straightforward memoirs becomes greater." Books are just another branch on the product tree, right next to fragrance and fashion line. But filling up chapters isn't as easy as filling perfume bottles. What about
content
?Some celebrity-penned tomes seem like they might actually contain worthwhile information:
Celebrity Detox
by Rosie O'Donnell, for instance, or
How I Play Golf
by Tiger Woods. But what about Naomi Campbell's
Naomi
? Victoria Beckham's
That Extra Half An Inch
? Or Tori Spelling's unfortunately titled
sTORI Telling
? Kelly Osbourne and Miley Cyrus have definitely had life experiences that are not "average," but is there enough to fill a book? And who will buy their stories? (And who will ghostwrite???) While I don't have any celebrity autobiographies (well, someone did give me
Raising Kanye
, by Donda West), I asked around and Megan owns
Gracie
by George Burns. Megan and Jessica both own
Me
, by Katherine Hepburn. Jessica says: "Also I read Drew Barrymore's sex and drug addled teen memoir when I was at camp in 1995. It was totally passed around like contraband." Maria used to have
Beauty Inside And Out
, by Tyra. Margaret admits: "I own
Having It All
by Erika Kane. Note this is not a book about Susan Lucci, but a celebrity autobiography written by the fictional character she plays on
All My Children
. I don't want to discuss why I own this. The shame runs too deep." Fess up: Do you own (or have you read) celebrity memoirs?
Why Are So Many New Memoirs 'Inspirational'?
[Guardian]