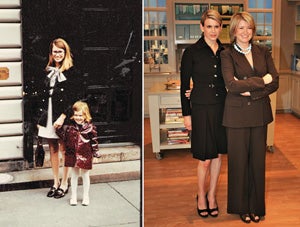 When I first wrote about the forthcoming show
Whatever, Martha
,
in which Martha Stewart's spawn Alexis mocks old episodes of her mother's show
, I thought it would be distinctly not a good thing. I remain resolute in my feeling that the show will hit the wrong notes — who wants to hear a daughter telling people that her mother, a beloved television hostess, didn't like her own child very much? — but after reading
New York Magazine
's
profile of Alexis
in this week's issue, I think the show will, at the very least, be amusing because Alexis has a disease that laypeople call "diarrhea of the mouth". (I'm not a doctor, but I'm pretty sure Alexis has a fatal case.) After the jump, the best quotes from the
NY Mag
profile, including a very special dig at a very famous c-u-next-Tuesday and Alexis's unvarnished opinion of Martha's mothering.
Alexis on her incipient OCD:
"If you listen to the show, you'll know that my area has to be calm before I can calm down…Not my vaginal area. I just meant my work area."
Alexis on the source of her "honesty":
"Maybe it was because [co-host Jennifer Koppelman Hutt and I] were raised where we didn't really have to kiss anybody's ass."
Alexis on the East Hampton gym she owned in the 90s:
"If you're nasty to me in my place of business, I'm going to be really nasty back. I'd be like, 'Get the F out … And then they'd say, 'You can't do that!' I was like, 'Yeah, I can. I can't kick you out because you're short, or gay, but I can kick you out because you're an asshole.' "
Alexis on Koppelman Hutt's friends:
"I hate all her friends, and if I don't do exactly what they're expecting me to, they'll freak out because I'm a bitch. I don't tap-dance…[Her] Jappy Long Island friends."
Alexis on her "media training":
"My media training was when I was 22 and some C-U-N-T named Candace Bushnell came to interview me about my mother…I learned very quickly."
Alexis on Martha
: "She didn't like me. But then again not many people do like me…People like to say that Martha didn't pay attention to me, and that's just not true. [Beat.] Maybe not the right kind of attention."
How Did Martha Stewart End Up With Howard Stern's Baby?
[NY Mag] Earlier:
Martha Stewart's Daughter Takes Therapy Sessions Public With New Show