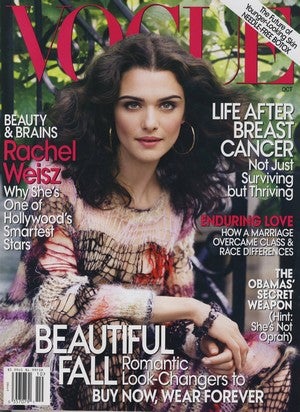 "There are three things a woman really needs at 38: a husband, at least one child, and a dress with long sleeves." So says the supremely annoying socialite/
Vogue
editor/chick-lit author Plum Sykes in an October
Vogue
article (subject: all the fabulous parties to which Ms. Sykes has worn long-sleeved dresses). We beg to differ! After the jump, see what your editors and writers feel a woman needs by 38 — and add your own to the list.
Sadie
- rent control - health insurance - hand towels
Maria
- a savings account and/or IRA - a good vacuum - a subscription to a major newspaper that you read every day
Anna N.
- the right to choose - a sense of humor about getting older - a basic understanding of plumbing
Megan
- a friend that knows that awful, unforgivable thing you did that time and still loves you and never brings it up - a bra that keeps your tits looking like they did at 25 - at least one pair of shoes that make your feet/legs look fantastic and are still actually comfortable
Dodai
- to visit 3 continents besides the one you were born on - to create something (poem/photograph/artwork/scrapbook) you'd want to keep forever … and then give it away - to realize that lists that document you need to have or do by a certain age are bullshit Dodai's got a point — the idea that all women "need" certain things by 38 is perhaps a fallacy unworthy of Jezebel. But what three things do you most
want
by 38? And if you're 38 and up, what are you glad you had by the time you got there?
Vogue
[Official Site]