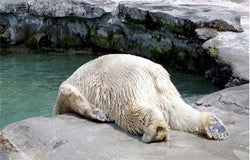 In honor of international talk like a pirate day , the remainder of this list will be conducted in pirate speak . Thank you for yourrrrrr support, landlubbers.
Aye, Doocy is probably just mad that McCain and Palin have terrible policies for women and he's takin' it out on us, argh!
Aye, McCain must think we're as dumb as McDonald's thinks we are.
Aye, once upon a time in a land called New Jersey, Rachel Zoe was a blushin' bride.
Ahoy, was that before, or after she started eatin' babies?
Arrr, but tis' Friday, argh! Drink as much grog as possible and rock out on your peg leg. You deser'e it.