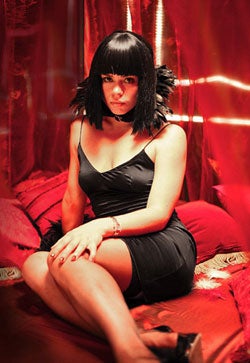 In the
Guardian
today, a prostitute named "Lara" wrote an essay about why
Johns should not be prosecuted
. The argument boils down to narcissism, as Lara says that she and her family benefit vastly from her sex work, and that's why her customers should not be prosecuted. Lara rails against a survey of the "off-street sex industry" called
Big Brothel,
which found that many of the women had been raped or abused while on the job, and that many had also were addicted to drugs and alcohol. Lara's entire problem with the piece is that
she's
not like
those
prostitutes — she's never been raped! — so why should
her
livelihood be hurt by going after Johns? "I do not have a pimp, and nor do I feel the need for 'coping strategies'. I am not au fait with drugs and drink only on social occasions," Lara writes. Well isn't that nice for her! Next, she tries to rebut the statistics in the Big Brothel study with purely anecdotal evidence."The report found that 75 different ethnicities were 'on offer.' I don't doubt this is true, but parlours have been known to try to pass off Thai women as Japanese, to give but one example," Lara writes. "I would suggest that, knowing the industry as I do, the actual number of women of different ethnicities on offer is somewhat smaller." Um…so what's your point? That your completely anecdotal evidence…doesn't disprove what they found through rigorous study? Lara used to have an office job that provided enough for her family, and she has a university education, but with escorting, she has more time to spend with her children and a bigger disposable income. So in addition to her main argument, which is, prostitution funds my happy lifestyle, her second argument is that people who break the law don't care about the law in the first place, and so trying to catch them is pointless. "The report does not seem to take into consideration that the type of people who benefit from trafficking, be it for prostitution or otherwise, are likely to pay scant regard to the law," Lara writes. "As, indeed, are the men who wish to purchase sex from trafficked women." Look, I don't doubt that there are women, like Lara, who entirely benefit from prostitution. As Lara argues, assuming that all prostitutes are victims is paternalistic. But that doesn't mean that many, many women — I'd be comfortable saying, the majority — are not prostitutes because they found their day jobs boring. They're prostitutes because they're forced to be or are in desperate circumstances. And to not attempt to help these women in some substantial way helps no one, or at least, no one besides Lara.
I'm A Sex Worker – Don't Take Away My Livelihood
[Guardian]
Revealed: The Truth About Brothels
[Guardian]