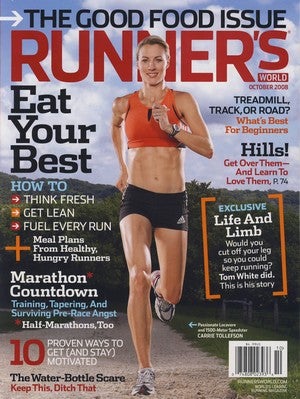 Thanks to one of our readers for pointing out the weirdest piece of Disney Princess marketing yet: the
Princess Half Marathon
. Advertised in the October
Runner's World
magazine, the Princess Half Marathon takes as its tagline, "Mirror, mirror, what do I see? The road to 'happily ever after' starts with me." Apparently being a princess is now all about individuality and girl power — like the power to wear a tiara during a race. Check out the full ad, after the jump.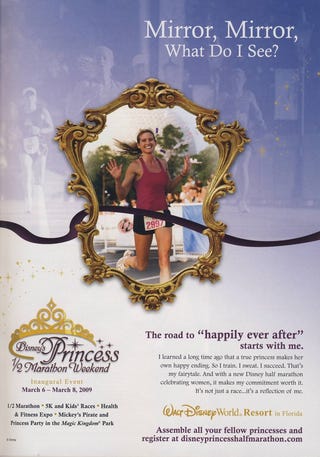 Now there's nothing wrong with Disney sponsoring a race per se. But there is something creepy about rebranding athletic success as "a fairytale" that requires looking in the mirror. And about the phrase
"Every woman is a princess, which princess are you?"
— as though women have only a set number of identities to choose from. Most annoying of all, Disney appears to be trying to expand the definition of "princess" to include any girl or woman doing something awesome, which is not really a concept Disney should own. Stick with Snow White, Disney execs — stay away from the Marathon.
Princess Half Marathon
[Official Site]
Runner's World
[Official Site]