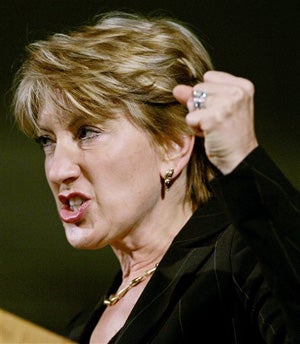 As many women who have plenty of education and training would tell you — except for Carly Fiorina, who the McCain campaign is keeping under lock and key after her comments that John McCain couldn't be a CEO — having those things is no guarantee of pay equity despite
whatever crap John McCain insists on spewing
. A
recent study by the Chartered Management Institute
in the U.K. shows that, actually, the pay disparities between male and female business executives, on the average, worse than the pay disparities in most other professions.The CMI study reports that female executives, on average, earn about 30 percent less than their male counterparts and that, at the rate at which they are achieving pay equity, it'll be a short
187
years until they catch up. Scottish women, and women in the IT industry in the U.K. also have it pretty bad, though men and women at the junior executive level in the energy industry might attain equity by 2010, after which they'll all be senior execs and the women will start earning 30 percent less. In case you're wondering, this reflects a trend in the U.S. as well, in which
statistics show
that women with Masters degrees actually face a slightly steeper wage disparity on the average than women with only a high school education — and that's before you account for occupational differences at both levels.
Occupational surveys show
that women nurses and teachers earn 10 percent less than their male counterparts despite comprising the vast majority of the work force, and professional women face a steeper wage gap with their male counterparts than women in sales and office occupations faced.
A new survey shows
that women at the top of the legal profession (lawyers, magistrates, and judges) make almost half what men in similar positions make — even as female
paralegals
make 93 percent of what their male colleagues do. Contrary to everything women have been taught about the value of higher education, while you're likely to make more money than you would otherwise, you are far less likely to make a comparable amount to that of a man. In another sad statistic, historically speaking,
women's pay has been catching up to men's
in he U.S. at a rate of about half a percent a year. That means, without radical changes, we might only have to wait 44 years to get paid equally for the work that we do instead of 147 — unless you're a doctor or a lawyer, in which case it's more like a century. But, hey, I'll bet that's a century's worth of really important education and training to catch up with men's skills, right John McCain? Right?
McCain Dismisses Equal Pay Legislation, Says Women Need More 'Training And Education.'
[Think Progress]
Equal Pay For Women Is 'Several Generations Away'
[The Guardian]
The Wage Gap by Education: 2001
[National Committee on Pay Equity]
Professional Women: Vital Statistics
[AFL-CIO]
Women Getting Screwed When It Comes To Pay
[Above The Law] The Wage Gap Over Time:
In Real Dollars, Women See a Continuing Gap
[National Committee on Pay Equity]