The "makeover" challenge on last night's episode of
Project Runway
involved creating a look for recent college graduates entering the workforce. The young ladies showed up in the workroom with their mothers, which was supposed to bring some mama drama, but, as always, the true tension came from the designers themselves. Kenley talked shit about Suede, declaring his design aesthetic "horrible." Jerell also had nasty things to say about Suede, calling him "so 1992." But things
really
got ugly when the judges turned on the designs Suede and Joe had created. Guest judge Cynthia Rowley called Suede's garment a "disaster," and Michael Kors proclaimed Joe's pinstriped skirt suit was "full Becky Home Ecky." Clip above; all of the ensembles from the runway after the jump.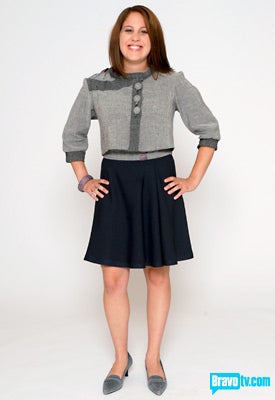 Michael Kors thought Leanne's ensemble was old-fashioned, but I thought her little dress/jacket combo was super cute. Maybe the jacket shouldn't have been so boxy?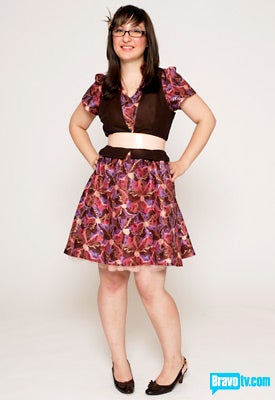 While creating this dress, Kenley said, "I know I'm gonna be in the top three. I should!" She also proudly explained that she never heeds the advice of wise éminence grise Tim Gunn. Sigh. That said, her Mini-me looked adorable and ridiculously happy in this retro confection.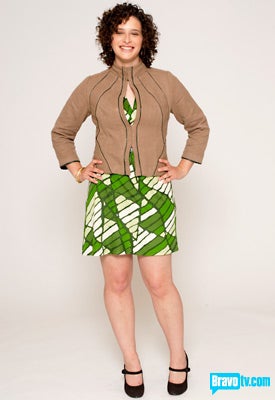 The judges liked Korto's ensemble. Guest Judge Cynthia Rowley thought that this jacket looked expensive.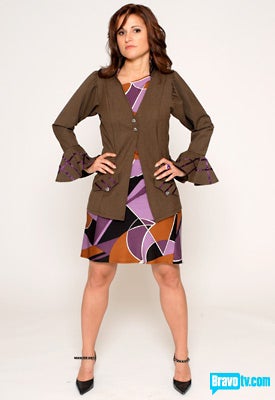 Nina Garcia on Suede: "I don't like this kind of printed dresses with this shape of a jacket. I have a lot of problems with this, basically. You know, that's just the tip of the iceberg. I will say no more." Suede: "Ouch." I cannot
believe
he did not go home.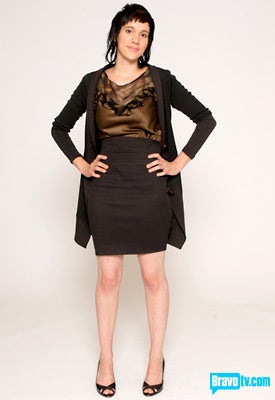 Jerell was the winner of this challenge. He did make something really elegant, cool and appropriate for his client, but I wish they'd deducted points for that horrid
Jolly Green Giant
vegetation on his head at the judging. Look for his outfit in
Elle
magazine.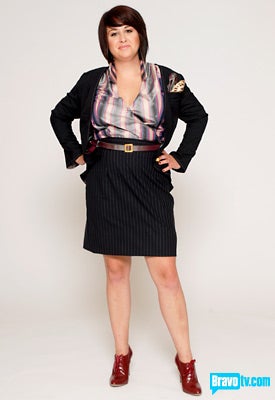 Did anyone else laugh out loud when Jerell said, "Come on, Joe, you can work on Nancy Regan tomorow?" HA! Joe's clichéd, "out of touch," Becky Home Ecky look sent him home. See ya, Joe!
Project Runway Season 5
[Bravo]