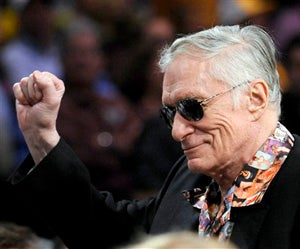 There is
a nice eulogy
, of sorts, to the end of the porn magnate era in the
Financial Times
today, noting the lackluster performance (pun
completely
intended) of many porn magnates' porn businesses. Hugh Hefner,
Penthouse
founder Bob Guccione,
Hustler
Larry Flynt and Brits Paul Raymond (himself deceased) and David Sullivan are all name-checked by way of noting that traditional porn outlets have gone the way of, well, elderly men's unmedicated boners, with low-cost amateur and illegal uploads winning the war for eyeballs and boners — lady- and traditional — if not for money. With the slow-but-steep decline (what is it with me and the penis jokes today?) of the older Barons of Porn, though, it's probably equally fair to ask the question: what does this bode for women in the industry?Because if this is the end of the magazine era and of the DVD era — both fairly well-regulated businesses in terms of performer conditions — and, as
Bob Guccione himself notes
, the traditional media outlets are having difficulty figuring out how to compete with the Internet (no one said that an old guy can't catch up with the times eventually, it's just many of them die trying), is unregulated amateur the real future of porn? How can that be monetized in order to compensate performers — or can it be? Are women still exploited if they're doing in in exploration of their kinks (like, say, exhibitionism) and not for the financial profit of anyone at all? If there are no business records or even businesses, it'll get more and more difficult to track down those in "charge" of making the pornography or the women (or men) appearing in it to make sure that STI testing is done or that the performers are of age. Lots has been written — some of it by former performers like
Linda Lovelace
and
Tracy Lords
— about the days of porn before which is was a semi-legitimate business enterprise. Say what you will about pornography, objectification and exploitation, the growing legitimization of the pornography industry — which led to much more government- and self-regulation — also led to a significant decrease in the kind of exploitation described by those performers as well as increased opportunities for women to participate in the higher-earning aspects of the production. If the era of professional production is leaving us and the performers, it's fair to ask what we can do to make sure the porn we choose to watch is made with the consent and pleasure of the participants.
Rise And Fall Of The Pornography Barons
[Financial Times]
The Future of Media: Or, How I Learned to Stop Worrying That the Internet Will Consume Print
[Huffington Post]