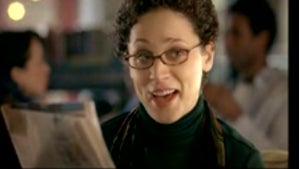 There's a new McDonald's
commercial
(which comes to our attention via a reader tip) called "Intellectuals." It begins with two women "reading" newspapers in an upscale, Starbucksian-establishment. The first woman says, "You know, I heard McDonald's is making lattes now." The other woman says: "McDonald's? Well that's just…it's fantastic!" Woman 1 replies: "Now we don't have to listen to jazz all day long!" Woman 2 concurs: "I can start wearing heels again!" Eventually, one woman admits, "I don't know where Paraguay is!" Get it? They're sick of pretending to be classy, café-loving intellectual ladies. They want to be "regular" American women! In other words, they want to be
idiots
.The spot was
discussed
on Marketplace last week.
AdWeek
's Barbara Lippert says: "It really seems to be in the Sarah Palin moment. Because all that is about anti-intellectualism and shootin' and huntin'… And this is, you know, 'Oh, we really always hated Starbucks, and thank God for McDonald's and a real American option.'" And trend-watcher Faith Popcorn agrees, claiming: "It's adapting kinda the campaign approach." In fact, the commercial seems offensive on
many
levels. But what do you think? Clip below.
Click to view
McDonald's Targets Starbucks Attitude
[Marketplace]