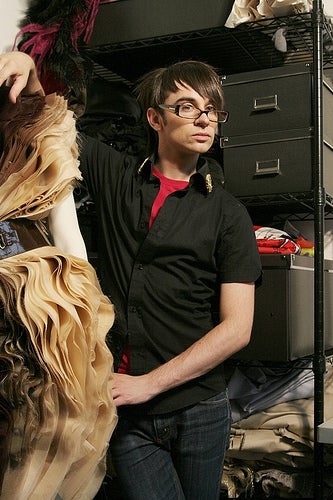 Friend-of-Jezebel Brad Walsh, whom we have hired in the past to photograph shows during Fashion Week, happens to have a very talented boyfriend: Christian Siriano, the winner of the fourth season of Project Runway — and the show's youngest winner. Twenty-two year-old Christian showed his Spring 2009 collection last week, and Brad was there, from beginning to end. He's put together some images (and words) for us. The dresses, the shoes, the hair, the drama — with no tickety-tack hot tranny mess, after the jump.
"I was so proud of Christian when he won last season's Project Runway; he worked so hard on that collection and he was terrified nobody was going to like it. When Heidi announced he was the winner and he cried, I cried. It was very surreal that it was all happening, that that was my boyfriend. I'm still beaming. So last night, when he finally got to show his full spring collection, solo and as a part of New York fashion week, it was a hugely emotional event. I was even more proud last night, and once again his fears that nobody was going to like the clothes were immediately quashed by all the buyers and press and celebrities in attendance who were aghast at how beautiful everything was. I have been taking photos of the preparations, castings, fittings, backstage, show, and after party. Here's a collection of some of them." — Brad Walsh.
Photography and words by
Brad Walsh
.
(Click on any image to begin gallery)