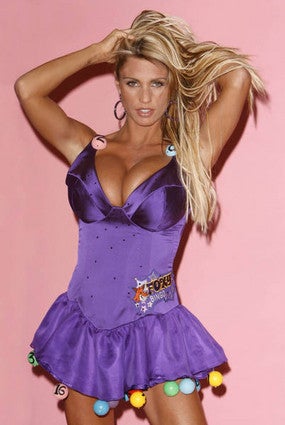 The
New York Times Magazine
profiled Jordan, the nom-de-nudiemag of Katie Price, the mega-breasted British "glamour model" who is a
tabloid staple in the UK
but largely unknown in the U.S. (well, largely unknown but for the
slavish devotion
of Dlisted's Michael K., who chronicles her every move). She started out as a Page 3 model in the
Sun
,
Times
writer Ed Zuckerman notes, "one of the topless girls next door featured daily," in the popular UK tabloid. It took her several months of rejection to snag the Page 3 spread, Jordan says. "I remember they had a competition in
The Sun
- 'Rear of the Year' - where they wanted people to send in pictures of their bums. I did that, got a letter back, 'Sorry, you're not what we're looking for this time.'" She was just an unremarkable girl, one of 365 a year (366 every four!) showing her tatas in the
Sun
, until she changed her fate by doing one simple thing:Getting a series of plastic surgeries that pumped her rack up to a "startlingly large" 32DD. Jordan could no longer appear in the
Sun
at that point, because they have a strict no-implant policy, but she took a page out of the Nicole Richie playbook and began partying excessively at London nightspots. Former
Daily Mirror
gossip columnist Jessica Callan says, "She'd get drunk, fall over, end up with inappropriate men, just the kind of celebrity we liked to write about. As a gossip columnist, you were thrilled when you found out Jordan would show up: 'Brilliant. There'll be some mayhem.'" So, the press coverage of Jordan was largely negative, until she "wrote" a series of memoirs about her hardscrabble life (Jordan on "writing": "The autobiographies I've done, I literally speak into a Dictaphone…They go off and write it up. The only difference they might add in, for example, is 'It was a sunny day, and the daffodils were just coming up.' Of course they add them bits in. But other than that it is me, me to a T."). Hearing about her sordid, unhappy past — abuse, bad relationships, a child with severe autism — made her infinitely relatable to many British women, particularly working class British women, Zuckerman notes. According to the
Times
, "Callan ended up seeing Price not as the 'shambolic' party girl she'd thought her to be but as 'a very sad, vulnerable character.'" Jordan has exploited this vulnerability to her own ends, with an empire that includes her 3 autobiographies, lines of lingerie and jewelery, forthcoming lines of baby clothes and housewares, and a reality show about Jordan — now widely known as Katie Price, and her current husband Peter Andre. She's even taken out her enormous implants and plans to sell them on eBay — "I'm trying to find a frame and a picture and a bra to put them in" Jordan says. Because of Jordan's status as something of a "working class hero" in Britain, according to Maddy Coy and Maria Garner of London's Metropolitan University, some people equate her success with "feminism." Coy and Garner wrote in an academic paper that was quoted in the
Times
article, "Jordan [is] regarded as embodying feminism, based on economic success and shrewd business sense…[But when] working class women . . . cash in with their bodies, this is not feminism but enterprise capitalism." Thank you Maddy Coy and Maria Garner for articulating something that has been seriously bothering me for a long, long time. I got really heated about the comments in
this post about the woman who claimed to be empowered by auctioning her virginity.
One commenter wrote, "There's this thing where we all sorta-kinda agree not to 'slut shame' around here, but prostitutes... are open game?" And it bugged me because the post was not about "shaming" anyone. It was about pointing out the absurdity of the situation: a woman is hijacking the language of feminism to justify selling her body. I'm not saying it should be illegal, nor am I saying that she should be burned at the stake or something. My point is more that by buying into a system that values women exclusively for their sexual attractiveness does women as a whole no favors. Even if a woman makes boatloads of money exploiting that system, that doesn't make it an intrinsically feminist act, nor is it subverting that system. It's just making money. All of that women's centerish ranting aside, I've seen snippets of Katie Price's reality show,
Katie & Peter
, and the Jordan spectacle is pretty endearing. How can you not admire a couple who pay "a nostalgic visit to the hotel bathroom in Australia where she first performed oral sex on him"? Katie even "mimed the activity to make clear what happened where." She might not be intrinsically feminist, but Katie Price sure is entertaining.
Really, Really, Big in Britain
[NY Times] Earlier:
Area Woman 'Empowered' By Auctioning Her Virginity