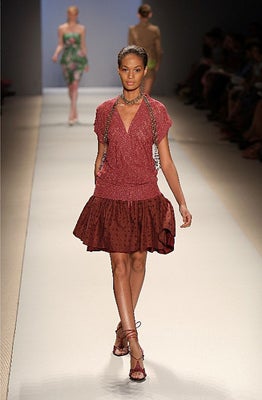 New York Fashion Week may be over, but a few media outlets have kept an eye on how many black models walked in the shows, much like we did
last season
. Diane von Furstenberg, president of the Council of Fashion Designers of America, sent a letter to designers, urging them to seek diversity when casting models. Reuters
reports
that though von Furstenberg used many black models on her runways — as did Tracy Reese and DKNY — there were still some labels for which only one — or no — black models were used.
According to
StereoHyped, Behnaz Sarafpour used one black model; Rodarte used one; Jill Stuart used 4, up from zero last season. Calvin Klein used one. Monique Lhullier used
none
. Reuters reports that Vivienne Tam also used
none
. After writing about this subject repeatedly, it's still shocking to see a post by a commenter on StereoHyped which reads: "Please explain to me why this is such an important issue?" It's incredible that people really don't get it. Having only white models on New York Fashion Week runways sends a dangerous message: That there is only one high-fashion "look," and it is to have pale skin. During Fashion Week, reporters come from around the globe, photographers take pictures that are seen in hundreds of countries. New York is a cosmopolitan city where it is unacceptable to tell a woman you're not going to hire her because she is black. And yet, for the past few years, that's exactly what has been happening in the fashion industry. In New York. So, are things slowly getting better? "Visually on the runways, it has improved," model mogul (and organizer of the "Absence Of Color"
summits
) Bethann Hardison tells Reuters. "But the results are still racist. [Designers] choose the same white and never go towards the brown or the dark."
Fashion Week Features Few Black Runway Models
[Reuters]
Black Model Watch: Spring '09 Fashion Week
[StereoHyped] Earllier:
Fashion Week Runways Were Almost A Total Whitewash