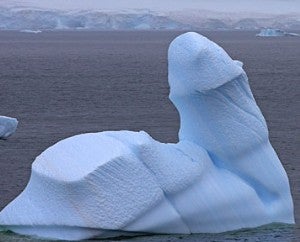 • Heh...
this iceberg
near the Antarctic peninsula looks like a penis! Maybe this is the Earth's way of telling us we're being dicks about global warming? • Acyclovir, a generic drug used to treat herpes, may be effective in
helping control HIV
, but only in tissues that are also infected with the herpes virus. • A 49-year-old Nepalese man has had
25 marriages
(some of which he cannot even remember) but has decided that he is happy with his 25th, who is 23 years old. •• An online divorce company has been stopped from
offering its services in Washington
after the state attorney general found that it was offering paralegal services without the oversight of a state-licensed lawyer. • Interstitial cystitis or "painful bladder syndrome," a condition that mostly affects women,
may be caused
when a person's colon is irritated by spicy food. • Male-to-male sexual contact transmissions represent 72% of
new infections of HIV
in males while 61% of new female infections occurred in black women. • Former
Playboy
centerfold Candace Collins Jordan has
jumped on
the blogging train. • Gina Gershon as
Sarah Palin
: "I think global warming is P.S.: polar bear shit. Everyday I open my door in Anchorage and it is freezing. End of experiment." • A dog named Scooby was the
first dog
to testify in French court after a veterinarian suggested he take the stand to see how he reacted to the suspect of Scooby's owner's death. • Uh, hey Cambridge University researchers? We don't need you guys to
conduct a survey
to tell us that Americans' personalities vary from region-to-region. We already know that. • A Massachusetts firefighter
revived a kitty
that he saved from a burning apartment on Tuesday via mouth-to-mouth resuscitation. •
New research
shows that parents can pass on a form of herpes that is responsible for roseola (and possibly neurological disorders) to their children via their DNA. • A
new report
found that approximately 18% of women between the ages of 18 to 24 have experienced forced sexual intercourse (which the study defines as intercourse via verbal or physical pressure, or being physically held down) at least once in their lives. • The highest paid woman in corporate America?
Margaret C. Whitman
, a Special Advisor to eBay who makes (deep breath) $120,427,360 a year. • A father and daughter were
ordained together
as Presbyterian ministers in western Pennsylvania. The father was inspired to enter seminary after his daughter joined up. • Germany's national advertising council has
admonished
a butcher for using "degrading and highly misogynistic" ads that had naked women with "Meat Products, Fresh Service" stamped on their bodies. Me thinks the butcher needs to read some Carol J. Adams. • An Italian mugger got more than he bargained for when he
attempted to rob
a woman who turned out to be a female Italian karate champion. • A professor of psychology and "skilled illusionist" in England has
conducted a study
that says that children's self-esteem and confidence increases when they are taught magic tricks. • Amira Sa'id, a professional belly dancer, has gained some sci-fi nerd success by performing in a
Princess Leia gold bikini
at
Star Wars
conventions. • A
new biography
of Hugh Hefner titled
Mr. Playboy: Hugh Hefner and the American Dream
asserts that Hefner and
Playboy
became a symbol of "women's freedom to make choices." •