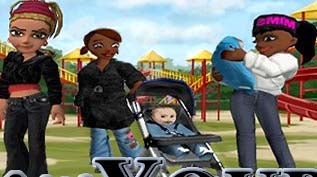 For those people troubled by the lack of diversity on Fashion Week's runways, why, look no further than that beacon of egalitarian humanity,
I Saw Your Nanny
. The nanny watchdog site (on which people report sightings of "bad nannies") has recently added a charming banner illustration, a gallery of happy nannies of color cavorting with their white charges on a playground. There are, in fairness, a few fair-skinned nannies (or stay-at-home moms) in the bunch - but don't worry: they're all trashy enough that you can be sure they're hired help (a frequent area of confusion on the site.)And in case you felt compelled to write in anonymously to a website to report some possible neglect: none of the nannies pictured is engaged in texting, yelling or inattention - capital crimes in the ISYN universe.
I Saw Your Nanny
[Official Site] Earlier:
ISYN Update: Bad Perm And Stroller In Street Spark Frenzy!
I Saw A Crazy: Nanny Policing Goes Off The Rails