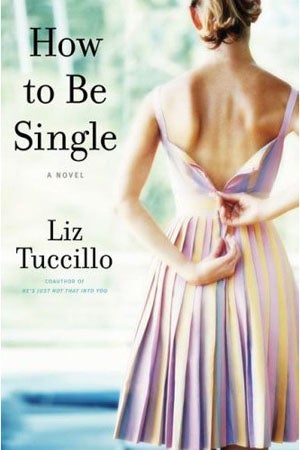 When I read this morning that Drew Barrymore's Flower Films is slated to produce the film version of Sex and the City scribe Liz Tuccillo's newish book (it came out on June 10) How to Be Single , I can't say I was surprised. I had read How to Be Single before the Sex and the City movie came out in April, and I had meant to write about it but the book annoyed me so deeply I decided not to. Tuccillo, who also co-wrote He's Just Not That Into You , went to several different countries and interviewed women about their experiences living in singledom, and then vaguely fictionalized her travels to write How to Be Single .The novel follows Julie Jensen, a single New Yorker in her late 30s, one of those typically fictionalized females with a nonspecific media job (this one's in book publicity!) and four of her unmarried 30something friends. (See, it's so totally different from Sex and the City because there's five of them.) Anyway, the premise is that our heroine Julie can't figure out why she and her friends, all attractive, successful ladies, can't find husbands. She's sick of her job, so Julie pitches the following idea to her boss:
I was frankly tired of America, with all our indulgences and our myopia, I was stuck and tired. And suddenly I realized what I wanted to do. I wanted to talk to more single women. I wanted to know if anyone out there was doing this single thing any better than we were. After reading all the self-help books that I have, it was ironic — I was still looking for advice…so on Monday, I walked into my boss's office and pitched her an idea for a book. It would be titled 'How to be Single' and I would travel around the world and see if there is any place in the world where women are better at being single than here.
And taking a trip around the world to figure out why you're still single isn't indulgent
at all.
Look, I know there are myriad societal pressures on women
to get married and have babies.
However, the book pretends to be attempting to answer a societal question when really, it's trying to answer a personal one: why is
Julie
still single. And the answer to that question is explained in the first chapter. Julie's friend Serena says, "It's no mystery. You dated bad boys until your mid-thirties, and now that you've finally come to your senses, the good ones are all taken." Which isn't entirely true, but it does say something about the choices that Julie makes. She spends most of the novel dating a French dude with an open marriage. Not really the road to white picket fences! Then after 350-odd pages of navel gazing masquerading as multicultural quest, Julie comes upon what she admits is a total cliche. "I wondered again how I could sum up what I had learned from the amazing women all over the world…I think we are going to have to love ourselves. Fuck." And that last word describes how
I
felt after spending so many pages with another utterly self-obsessed female character. Tuccillo is certainly an engaging writer and the book is something of a page turner, but when this movie comes out to inevitable fanfare and
Sex and the City
tie-in marketing, I suggest saving your $12: you probably already spent that much watching Sarah Jessica Parker and her monied buddies tromp around New York. Or you could see it anyway and be like Julie: making the same mistakes over and over and then whining about it.
New Line options Tuccillo's 'Single'
[Variety]
How To Be Single