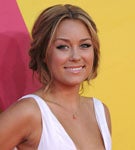 "Star" and "designer" Lauren Conrad can now add another dubious distinction to her list:
"writer."
According to
People
L.C. has just signed a three book deal with HarperCollins to write a series of young adult novels. "The books - the first of which is scheduled to hit shelves in the summer of 2009 - will be loosely inspired by Conrad's own experience going from an ordinary teen to a reality TV star,"
People
reports. Ok, L.C. is obviously not a stupid person, but we'll eat our respective hats if she's writing these books alone. If any publishing moles can tell us who's ghostwriting these soon-to-be literary classics,
drop us a line.
[
People
]