I'll be the first to admit I was drunk when watching last night's episode of
Project Runway
. Blame Anna. But you didn't have to be under the influence to feel like you were tripping out of your mind: The show was straight up Crazytown. The "special guests" were eliminated designers from earlier in the season. I'd totally forgotten about that Asian guy! And the challenge was for the contestants to work with their former rivals, in teams of two, on an avant garde look based on one team member's
astrological sign
. It only got trippier when the designers had to take their ensembles to a party at the
planetarium
. In any case, the judging after the runway show was a big ol' mess, with two designers getting eliminated. Michael Kors
hated
Blayne's "Libra" outfit in which his model was "pooping fabric." And Kors
really
hated Terri's dress, which he dubbed "Voodoo Princess In Hell." Even the model wearing the garment was offended by that. Clip above; all of the outfits from the runway after the jump.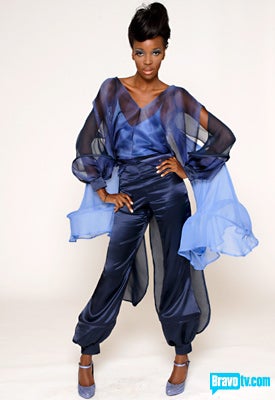 Suede and Jerry worked on this hideous "Libra" outfit.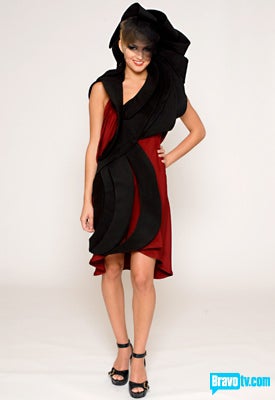 Leanne and Emily designed this "Scorpio" ensemble together, and seemed to "get" the concept of "avant garde."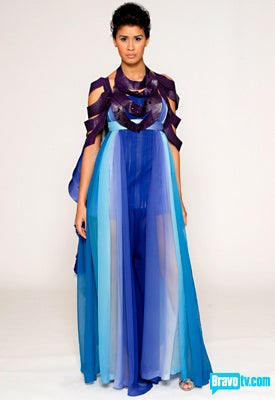 Korto and Kelly made this beautiful "Aquarius" dress that was even prettier in the back.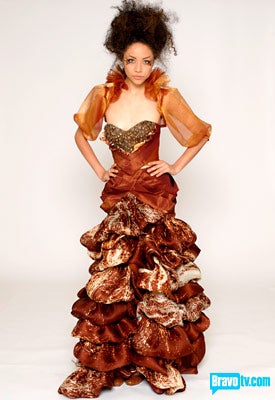 Joe and Daniel worked on this volcanic "Aries" gown, which actually is not terrible, considering the competition.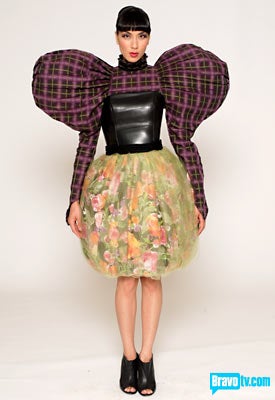 There was a part in the episode when Kenley said, "I'm just having fun and some girls don't like that." But what Kenley needs is a heaping spoonful of shut the fuck up. She is so argumentative on the runway, it's embarrassing. Because it's ultimately disrespectful! Anyway, this dress is "Aquarius." See the water-bearer influence? Me neither. Unless the sleeves are canteens.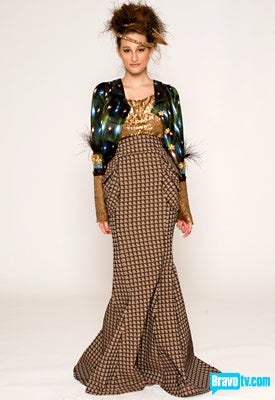 Jerell and Jennifer worked together on this "Sagittarius" outfit. See the arrow in her hair? Previous
ProjRun
contestants picked this as the winner. Desperate times.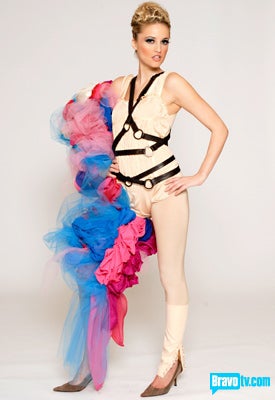 Blayne's garment is like a Cirque du Soleil performer had a terrible accident and fell in a vat of cotton candy. Bye, bye, Blayne.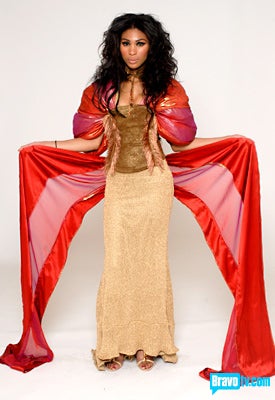 I actually liked Terri's "Leo" ensemble better when it had a fur collar on it, but maybe that's because I like
The Wiz
. So long, Terri. Ease on down the road.
Note: I'll be liveblogging the Project Runway Fashion Show from the Tent at Bryant Park tomorrow morning! I don't know which contestants are showing collections, but they always throw in some decoys. Stay tuned…
Project Runway Season 5
[Bravo]