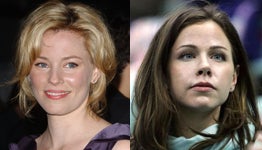 At the 3.1 Phillip Lim show,
Elizabeth Banks,
who plays Laura Bush in the upcoming Oliver Stone flick
W
, was sitting across from Barbara Bush, daughter of W. "Our head just exploded imagining the stilted conversational possibilities,"
New York
notes. •
Matt Damon on Sarah Palin:
"I think there's a really good chance Sarah Palin could become president, and I think that's a really scary thing… I don't know anything about her and in eight weeks, I don't think I'm going to know anything about her… It's like a really bad Disney movie. The hockey mom, you know, 'oh, I'm just a hockey mom'… and she's facing down Vladimir Putin (of Russia)… It's totally absurd… it's a really terrifying possibility." (
here's video of Matty's rant!
) • Even though Balthazar Getty has been publicly cavorting with Sienna Miller for some time now, Getty's
wife Rosetta Millington is dragging her heels
with the divorce proceedings, allegedly because it would "allow him to separate future earnings from her,"
TMZ
reports.[
NYM
,
Just Jared
,
TMZ
]