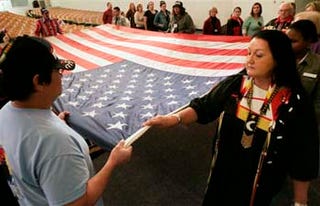 Even though initially, primal emotions like anger and fear can overwhelm your rational thoughts, with time the passion fueling those unwieldy feelings can eventually boil down into an angular piece of insight. And so it went with
Camille Paglia's typically insulting piece
heralding Sarah Palin's patriotic feminism in
Salon
today. Megan and Moe were already
irate about it
this morning, and when I first read Cammie's little rant, I was
apoplectic
. "One reason I live in the leafy suburbs of Philadelphia and have never moved to New York or Washington is that, as a cultural analyst, I want to remain in touch with the mainstream of American life. I frequent fast-food restaurants, shop at the mall, and periodically visit Wal-Mart (its bird-seed section is nonpareil)," Paglia writes, with characteristic tone-deaf smugness."Like Los Angeles and San Francisco, Manhattan and Washington occupy their own mental zones — nice to visit but not a place to stay if you value independent thought these days," Camille blathers on in her praise of Palin. And it sounded very much like what Sarah Palin
recited in her RNC acceptance speech
: "A writer observed, 'We grow good people in our small towns, with honesty and sincerity and dignity,' Palin said. "And I know just the kind of people that writer had in mind when he praised Harry Truman. I grew up with those people. They're the ones who do some of the hardest work in America, who grow our food and run our factories and fight our wars. They love their country in good times and bad — and they're always proud of America. " The implication with both Paglia and Palin is that people who live in cities are intrinsically less patriotic than those who are from Mayberry. We must be one hell of an unpatriotic country, then, because according to a 2005 U.N. survey,
80.8%
of the American population lives in cities and suburbs. What's more, during this election cycle it's not only urbanites who have been made out to be unpatriotic. It's anyone who's not Christian. First there's the whole
Obama is a Muslim meme
, and people jumping on Obama saying, "my Muslim faith." That's just flat out anti-Islam prejudice. But then there's Palin's
Evangelism.
Much has been made of Palin's Pentecostal church, and while some of what has been said about the Alaska governor's religiosity
is overreaction
, she has said several things that are deeply disturbing for anyone who believes strongly in separation of church and state. Beliefnet.com editor-in-chief Steven Waldman writes in the
Wall Street Journal
: "What should be of concern to religious minorities is that Palin signed a resolution establishing a Christian Heritage Week. It didn't actually declare the U.S. to be an officially Christian nation but it plucked Founding Fathers quotes way out of context to misleadingly imply they were devout Christians." In addition, Palin "told a group of young church leaders to pray for a gas pipeline because it was God's will. 'God's will has to be done in unifying people and companies to get that gas line built. So pray for that.' This is well beyond what President Bush customarily said. Asserting that God endorses a particular energy strategy or public works project is exactly the sort of mindset the Founders feared. The vote-for-this-because-God-says-so approach means that those who oppose a particular policy are violating God's will - and good Christians should view them that way." Though Paglia would certainly accuse me of being trapped in the allegedly closed-minded "mental zone" of New York City, I am deeply disturbed by these cultural assumptions. It serves precisely no one to play into the I'm-more-patriotic-than-you-are pissing contest. By Paglia and Palin's implied parameters, as a Jewish urban dweller I might as well be an Iraqi insurgent for my suspected level of innate patriotism. And as much as I believe in questioning authority and looking at our country critically, I wholeheartedly love America. "I have spent time debating with myself the notion of love of country," My mother wrote me in an email this week. "After all, this country took my parents, and they prospered and so in turn have we and you. Jews don't fit in a lot of places...we have to remember that." Trust me, mom, I haven't forgotten.
Fresh Blood For The Vampire
[Salon]
Is Sarah Palin Bad For The Jews?
[Radar]
The Passion of Palin: Separating Real Concerns From the Hysteria
[WSJ] Earlier:
Pig Lips, Crazy Eyes, Camille Paglia And The Dear Leader