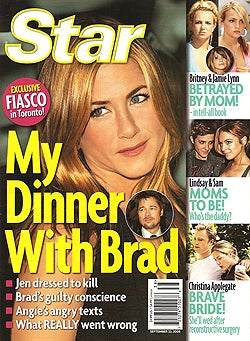 Welcome back to Midweek Madness, your source for tabloid "news". Something amazing has happened this week: Each of the five weekly magazines have someone completely different as their main image! Oh, there's still no real gossip — Brad and Jen did
not
have dinner in Toronto; Britney's "comeback" and Anna Nicole's baby turning 2 are not exactly earth-shattering — but at least it's not as repetitive as usual. And there are gems hidden inside the magazines, like pictures from Blake Lively's birthday party and the demonic snapshot of the woman John Mayer's humping. Intern Margaret assists as we attempt to rouse ourselves from a haze of ennui and "read"
OK!
,
In Touch
,
Star
,
Life & Style
and
Us
, after the jump.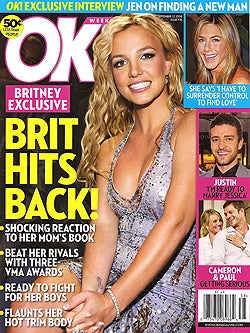 OK!
"Brit Hits Back!" Most of the "exclusive" information in this issue is from that interview the mag ran like 3 weeks ago. We do learn that Britney's album will be released by late December. Her dad's conservatorship will run out by December 31 (and probably won't be renewed). In the new year, she wants to go back to court and get 50/50 custody with Kevin. Also inside: In a "Summer Fling To The Real Thing" story, we learn that
Justin Long and Kirsten Dunst are still together
. Lastly: "Sarah & Todd's Love Story" is about Governor Palin's marriage. Apparently they got married in a courthouse in Alaska in 1988 and didn't have witnesses, so they had to go to the nursing home next door and round up some old people; they had one lady in a wheelchair and one with a walker.
Grade: F (cachexia)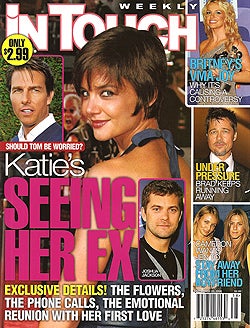 In Touch
"Katie's Seeing Her Ex."
Joshua Jackson showed up at the Broadway theater where Katie Holmes has been rehearsing All My Sons and brought flowers
; therefore this cover blares she is SEEING her ex. Also, the mag speculates that she is pregnant, because she was seen wearing layers and sweaters and once held a briefcase in front of her shirt. Next: Brad's cracking under the pressure of raising six kids. He seems tired and at the Venice Film Festival he said, "Sleep is something you long for, but it' alright."
Eva Longoria might be pregnant because she only drank water at a party in Vegas
. Britney's MTV "comeback" is "controversial" because Rihanna should have won some of the awards Brit received. "Rihanna is the hottest chick in the game right now. She had the most No. 1 and Top Ten hits. Plain and simple, Rihanna was robbed," a poster wrote on a Rihanna fan site. (Yes, the mag published it.) Also inside:
Jessica Alba's back in her skinny jeans
. Cameron Diaz wants Jen Aniston to stay away from her man. Apparently Jen has been texting and calling Paul Sculfor and Cameron is "really mad." Lastly, a greyhound named Torque is the foster parent of a baby owl named Shrek (Fig. 1).
Grade: C- (tabes)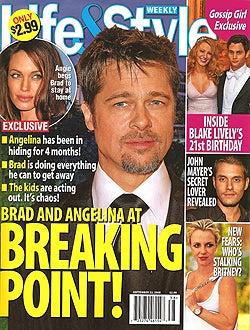 Life & Style
"Brad And Angelina At Breaking Point!" Apparently Brad and Angelina are stressed out because they have a lot of kids or something. Moving on:
Is Adnan stalking Britney?
Despite previous reports that Adnan Ghalib and Britney Spears had a romantic weekend together at a Vegas hotel, Adnan was actually trying to get a photo of himself with his ex to sell for cash. The security team blocked him. "It was really creepy — and pathetic at the same time," says a source. Someone else says,"She's desperate for love — but not
that
desperate." Next:
John Mayer's hooking up with a buxom Miami waitress named Maria. Again.
He dated her before he went out with Jen Aniston and it's back on. She is originally from Spain and has thick accent. There's really no story here unless you see her boobs. (Fig. 2) Oooh, pictures from Blake Lively's Roaring 20s birthday party! (Fig. 3). Lastly: Tyra Banks is "160 lbs. and loving it!"
Grade: C (atrophy)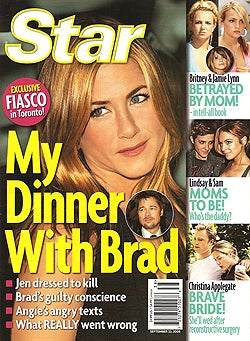 Star
"My Dinner With Brad." Exclusive fiasco in Toronto! Here is the next chapter in the novella which has been going on in
Star
, which began with a phone call from Jen to Brad. The story unfolds thusly:
Jen got really excited about meeting up with Brad in Toronto at the Film Festival.
Actually, the
magazine
got really excited, printing lines like: "Where would the rendezvous take place? What would Jen wear? Would there be tears? Hugs? A peck on the cheek?" But
in the end, Jen and Brad never even saw each other.
Sob. Moving on: Christina Applegate's rocker boyfriend, Martyn Lenoble, proposed to her several times and she finally accepted, because she was impressed with how he stepped up and took care of her during her cancer treatment. Christina's rep denies the actress is engaged, but a friend says she loves the water and is thinking about getting married at sea. Next:
Lindsay Lohan and Samantha Ronson are mommies to be!
A baby is the only thing missing from their relationship, says the mag! "They both think that Samantha's older brother, Mark Ronson, would be the perfect sperm donor," a pal tells
Star
. LL wants four kids. Lastly: Jamie-Lynn Spears is writing Bristol Palin a letter, warning her not to marry her baby daddy.
Grade: C+ (apathy)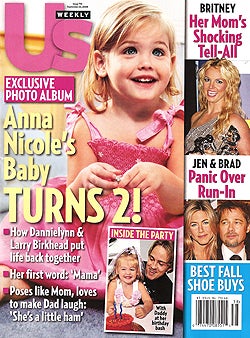 Us
"Anna Nicole's Baby Turns 2!"
Dannielynn is a normal two-year-old
. Larry Birkheard seems like a good dad and is really into her, says Intern Margaret. What's more revealing is how Birkhead makes references to abusive things that Anna Nicole used to do to him: Anna used to slap him when he took unflattering pictures of her, force him to rub her feet, call him "dummy" and change the channel while he was watching TV. Also inside: The mag compares the bodies of the chicks on
90210
today as compared to the ladies on
90210
in the 1990s and and
a Beverly Hills weight management expert proclaims that the actresses on the new 90210 appear "undernourished."
The magazine also casts "Election: The Movie." Yes, Tina Fey plays Sarah Palin. (Fig. 4) Next: Did you know that Justin Timberlake and Kevin Federline were both groomsmen at the wedding of their mutual friend, choreographer Marty Kudelka? They were cordial but distant. Lastly: There's a six page "Back To School Special" with old yearbook pictures of celebs… Fergie with her old nose! Penn Badgley with chubby cheeks!
Grade: B- (mild interest)
Fig. 1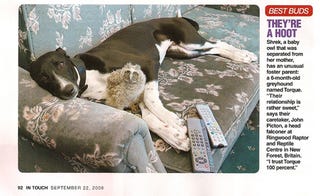 Fig. 2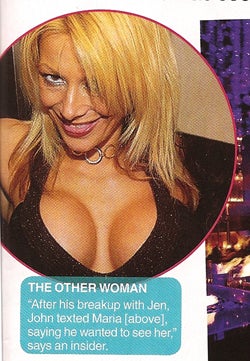 Fig. 3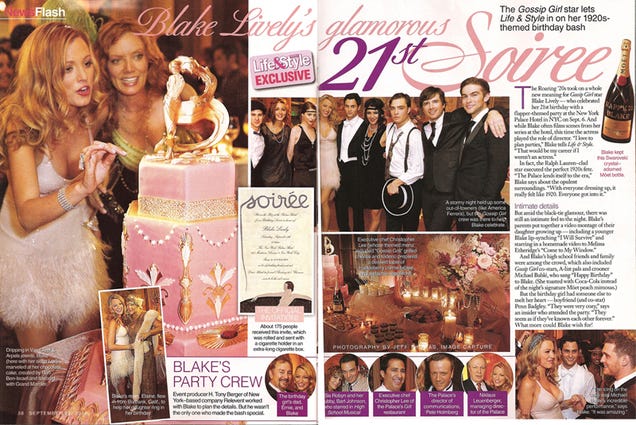 Fig. 4