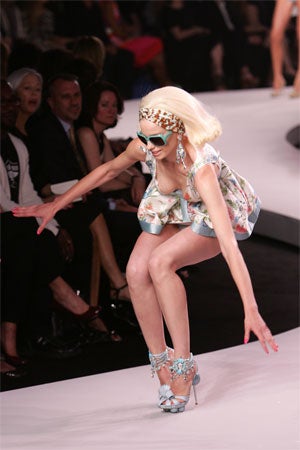 I realize I use these column inches more often than not to write about the drawbacks of being a model — the situations and encounters that make me feel, as casting superagent James Scully said earlier this summer, "Like [a] greyhound we plan to shoot after a race." Today is a little different.
It's show season, and I'm in this uncharacteristically elevated mood because I never find show season to be a grind so much as a whirl. Show season is the fashion Super Bowl, and I'm not ashamed to say I live for the game. It's when you discover new reserves of endurance and the depth of your own capacity for fun. You will work two shows and do "looks" — basically, fit modeling for a designer culling his clothes into a collection — for five hours and then you will meet your Australian friend for dinner at 11 p.m., and you will go to at least two fashion after parties (which will be lame), and you will find yourself in a romantic clinch with a Dutch minor-league soccer player at the Beatrice at 2 a.m. before retiring, with the Australian friend, to some tiny bar willing to serve you margaritas until you are both so blotto that when it's time to find a cab you can't even tell if you've ended up in the East Village or the West, all the streets are looking mighty crooked and none of them seem to go where you think they ought. And you will make it into the makeup artist's chair at exactly 8:30 a.m. the next day; how any of this happens, exactly, is a mystery, but a glorious one. And life continues in this mode of serendipity-driven Stakhanovite excess for as many show weeks as you do. Your feet ache from your eleventy-seven castings and your head aches from the sponsored cocktails lame afterparty #14 was serving and you've achieved a new level of oneness with your cell phone, so often does your booker call with so many conflicting appointments and addresses, and the constant yawing up-and-down fortunes of options, confirmations, and cancellations makes it a high-stakes way to live. But the adrenaline rush of doing a show, of walking out in front of the barking photographers and the hot lights and participating in the enactment of a designer's personal creative vision for the world, it's kind of strangely beautiful. In fact, it's a blast. And if it weren't so hard to get to that spot at the end of the runway, I don't think I'd enjoy being there half as much. Of course it irks that there are clients from two seasons ago who still owe me trade. It's one thing, I was grumbling backstage to the Russian who exited just before me, to get paid in clothes; it's another to
not
get paid in clothes. She rolled her eyes and told me about the time she twisted an ankle in a designer's 8" heels backstage, and got hustled out of the lineup without any remuneration at all. Of course getting your hair teased and sprayed and having extensions glued in for full candyfloss effect sucks. Getting a communal bottle of spray conditioner and a couple combs to undo the whole rats nest backstage afterwards sucks; deciding to skip the squabble for the spray bottle and go home on the F with your 'do still gravity-defiant possibly sucks more. Having some asshole on the street feel entitled to yell "Eat a sandwich!" at you and the Australian sucks. Keeping your sneakers practically dry right up until you fall into an ankle deep puddle mere steps outside Bryant Park sucks. Scalp burns and common makeup brushes and strangers calling you "Bitch" and stripping down to a nude thong backstage in front of gawking assistants and event photographers all sucks. Exhaustion sucks and having your most secretly hoped-for options collapse sucks. But there's still a kind of magic in fashion week. Maybe it's just the alcohol, or the fact that it's one of the few times any model can ever pretty much count on working, but it's probably the two times of year I love most. I think it's the sense of possibility in the air. There's something touching about fashion — about seeing women frantically sewing satin bias tape onto tulle in a workroom that adjoins the showroom where you're being fitted, about watching a collection coalesce and a designer's ideas clarify and condense before your eyes. Even the way that in the 21st century, we still show clothes twice a year, six months ahead of season, Forever 21 rip-off artists be damned, in lavishly produced statement events whose purpose is mainly to be fabulous and impressive, is kind of touching. On the best days of my job, I feel like I play a part in bringing something of beauty into the world. And when a little bit of luck comes my way and I can do even slightly better than cover my expenses, that feeling of aesthetic satisfaction is enough. So, please, excuse me for not writing as much as I wish I could right now, I have been fantastically busy. New York is almost over, and like the rest of the fashion class, I'm flying across an ocean in a couple days. Wish me luck.