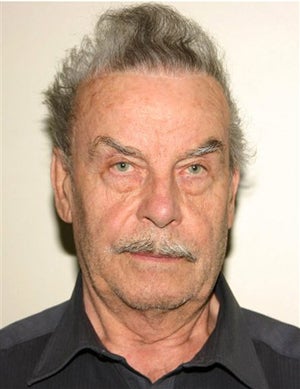 Consider Jezebel your source for all nightmare-inducing horrific
incest dungeon stories,
because there's another one hitting European papers: A 45-year-old Polish man named Krzysztof B. has held his now 21-year-old daughter Alicja captive since 2002 in their rural home. In that time, he's allegedly fathered Alicja's two children and forced her to give them up for adoption. Sound vaguely familiar? Well Krzysztof is being called
"Polish Fritzl"
after the terrifying Austrian psycho Josef Fritzl, who fathered
seven
children by his captive daughter, Elisabeth. And speaking of the unfortunate Fritzl clan, 42-year-old Elisabeth, who was held captive for more than two decades, has
finally spoken publicly
about her father's ultra-violence.According to the
Times of London
, Elisabeth told Austrian judge Andrea Humer in an interview, "He was very brutal against me…And when I did not agree to have sex, then the kids would suffer. We knew he would kick us or be bad to us." The
Times
also notes, "Elisabeth said that her father threatened to leave them to rot in the cellar, which had no windows and was sealed by an electronically-locked door." Unlike Elisabeth's children by her father — three of whom were kept underground with Elisabeth and three of whom were raised in the Fritzl's house proper — Alicja's two children were given up for adoption, and now authorities are trying to track down the two boys, ages 3 and 18 months, to see if Krzysztof is really the boys' father. The potential incest was discovered by Alicja's mother, Teresa, who said she learned about the abuse when she read Alicja's diary. However, the
Times of London
also reports that, Krzysztof "used to order [Teresa] to watch television whenever he went into the girl's room, closed it and took out the door handle." And when Teresa confronted Krzysztof about the abuse, "He intimidated us; he threatened that my daughter will be dead, that he will destroy us all, if anyone learned about it." There are no words. Actually, that's not entirely true: Polish Prime Minister Donald Tusk called the crime a "tragedy" and is now pushing for a chemical castration law for pedophiles. Jeez. Fritzl is currently in jail awaiting a trial which is slated for next year. According to
the Daily Mail
, Frizl "is expected to face up to 3,000 rape charges plus charges of child cruelty and false imprisonment." Krzysztof is also in jail, and police are currently in the midst of his investigation.
Man Dubbed 'Polish Josef Fritzl' Arrested
[Times of London]
Elisabeth Fritzl Tells Of Father's Cruelty
[Times of London]
'My ordeal at the hands of my all-powerful father': Elisabeth Fritzl Tells Of The Nightmare In The Cellar
[Daily Mail]