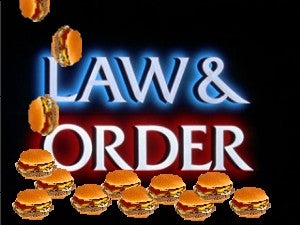 People who watch crime shows like
Law & Order
and
CSI
spend more
on groceries, according to a new study. Brutal TV homicides: making us hungry! • Do you want a crush to fall head-over-heels for you? Take them him or her a
roller-coaster ride
. • Diane Webber, the model/actress who starred in the 1962 film
Mermaids of Tiburon
,
has died
at the age of 76. RIP. • Animals get
STDs too
. (In fact three of the major STDs in humans originated in animals.) • A married couple in England claim to be the
world's oldest combined couple
with 205 years between the two of them (The wife is 100, the hubby is 105). •• NYU has received a $490k grant from the National Science Foundation to
promote women and minorities
in the sciences. • The Iranian government is looking to
decrease elective Cesareans
(which make up 40% of births) by educating women and doctors about the benefits and risks of natural births. • In 2005, nearly 4,000 women
were treated in a NYC emergency room
for injuries inflicted by their partners. • Diet tricks: eat food naked, take pictures of what you're eating, brush your teeth when you are hungry, or wear tight clothes! Basically,
try everything
but eating healthier, whole foods. • As more women join the
field of urology
, the culture of the medical field is undergoing a gender makeover that is friendlier and more welcoming to women. • Female condom-makers in India aim
market their condoms
to female sex-workers through NGOs at a lower cost. • A study in South Africa reveals that over 1 in 4 South African men who have been married or have lived with their partner reported
using violence
against their current or former female partner. •
Cosmopolitan
is
teaming up
with YouTube for StarLaunch, a contest encouraging YouTube female singers to post videos of themselves and win a chance to share the stage with
Solange Knowles
. Squee! • A luxury boutique hotel in Singapore has set aside a whole floor (5 suites) that are strictly
for women only
, giving female travelers not traveling with men feel "a sense of peace." • An Australian woman has set up a website to
track down a man
who viciously beat her outside of a casino. • A new test for a protein called P16INK4A is
more effective
at catching pre-cancerous cells in women who might have cervical cancer than a normal pap smear. • Women earn roughly
two-thirds
of the average male income in Brazil in 2006 while blacks earn about half of what whites make.