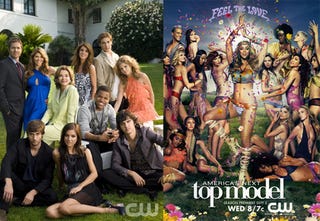 When I heard that there was going to be a black kid on the new
90210
, I celebrated for about three seconds. Then I read that he was adopted. What a fucking cop out. It's been 18 years since
The Fresh Prince Of Bel-Air
, 24 years since
The Cosby Show
and 33 years since
The Jeffersons
. Why can't there be a black kid living in an affluent neighborhood who has his own money? Or has ONE rich black parent? A lawyer, doctor, politician, sports star, rapper,
something
? Because, thanks to
The OC
,
Laguna Beach
,
The Hills
, and
Gossip Girl
, it's not like we don't see enough wealthy young white people in primetime.Now we have
90210
. And, new on the CW:
Privileged
. As Robert Bianco
writes
for
USA Today
: "What an odd America CW inhabits. As far as CW is concerned these days, we all live in a land where most everyone is white, wealthy and incredibly, well, privileged." But one of the most popular shows on the CW has a diverse mix of racial and socio-economic backgrounds, with men, women, blacks, whites, Latins, gays, straights and "fiercees" all working together:
America's Next Top Model
. It's not strange that Tyra's show appeals to women of all demographics — my mom
loves
it, and it definitely has a strong teen following — because it's campy fun while still showcasing real human personalities faced with real challenges. Not the ridiculous photo shoots: The tasks that teach the contestants things like honesty, confidence and self-awareness. Of course, the makeup and pretty clothes can't be denied. But makeup and pretty clothes aren't enough, which is why
Privileged
seems to fall flat. (
USA Today
's Bianco calls it "a second-rate imitation" of
Gossip Girl
, with "clunky jokes, overwrought performances and a tone that implies we're actually supposed to care.") As for
90210
,
Entertainment Weekly
's Ken Tucker
calls it
the "Sarah Palin" of TV Shows: "Its main purpose is to remind you of a trusty old product while adding some new vigor and soap opera to the cultural discourse." (Meanwhile,
Gossip Girl
is earning
pretty good ratings
so far this season.) But the real question is: Why can't the CW network take some of the multi-culti, LBGT-friendly vibes Tyra brings to
America's Next Top Model
and sprinkle them in the rest of the whitewashed (except for
Everybody Hates Chris
) prime time programming? CW network president Dawn Ostroff tells
AdAge
that she is looking for a new head of reality. And she says: "Our primary goal each season is to develop shows that fit with the CW's brand identity, connect with our core female viewers and help create audience flow across the week. And
90210
accomplished each those perfectly." Hear that? Adopted black kids (who happen to be jocks!) are "perfect."
'Privileged': The Kids Are All White, And Kind Of Shallow, Too
[USA Today]
Family Drama, the CW Way
[AdAge]
CW Dazzles in Prime With Gossip Girl, One Tree Hill
[MediaWeek]
90210 Review
[EW]