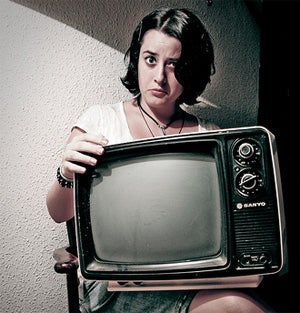 I'm sitting here in the Minneapolis Airport, having a beer (or two) and catching up on all the many, many, many comments I missed this week because my internet connection was tenuous at best and instead of reading you guys, I went drinking. So, this afternoon, I decided to combine the two activities I did the most this week — writing and drinking — and shout out some of my favorite comments from the threads Anna told me I just
had
to read.On
Michelle Obama
,
sarrible
said: "I don't know if Barack understands my dreams, because right now I'm dreaming about me and Michelle, a pitcher of bourbon, and our plan for universal health care. We're doing each other's hair." I say: I wish I'd been at your party. On
Hillary's speech
,
BloyJoy
said: "And that mic Tom Brokaw is using makes me think he's gonna break into
Oops I Did It Again
. " I say: At that point, I would've paid out all the cash in my wallet to fucking see that shit. On
Bill Clinton's speech
,
Lizwithazee
said: "Yeah, my mailman is a superior Texan to what we've had. Also my paper boy, my gynecologist, and Leslie, the famous cross-dressing homeless guy." I say: I'm looking for a new gynecologist, and I do like a man to drawl when he's down there. On
Barack Obama
,
MeaniePants
said: "I'd go straight for Anderson, but something tells me he wouldn't do the same. Sigh." I say, honey, I'd become a gay
man
for Anderson, but he's the only television personality I didn't manage to see even once this week. And Bill Hemmer even read my blog and still didn't call. But, really, it wasn't until the Republican Convention that you guys hit your stride (and had some sort of local wheat beer spewing out my nose). In the
Rudy Giuliani
thread,
LilyBlueShoes
said: "Rudy is a big fan of the drilling. Just ask Judy." I say: it didn't make the liveblog, but Spencer and I were IM'ing until my internet connection went dead and debated whether Rudy or McCain had a limper dick. I voted Rudy because of the prostate cancer. I'm pretty sure that's why my internet connection went dead — someone at the NSA vommed thinking of Rudy's flaccid cock and caused the wiretap to go kablooey. On the
Sarah Palin
thread,
Shewar
won my heart with this picture, but I was a sucker for
KarenWalker's
Harry Potter reference: "I like how she won't say Obama's name. It's like he's Voldemort or something." On last night's
pre-McCain speeches
,
Sister Mary Martha
summed up my liveblog better than even I could: "FEAR FEAR FEAR FEAR FEAR FEAR FEAR EVIL HATERS KILLERS MUSLIMS BLACK PEOPLE FEAR FEAR FEAR FEAR FEAR PROTECT YOUR DOLLARS AND PURE CHILDREN FEAR FEAR FEAR" And while I was mocking
John McCain
with the reporters around me,
KiddyKat
and
PilgrimSoul
were getting a handle on the audience from afar, saying: "That is the stiffest dancing I've ever seen. Maybe because of the stick up their asses. Somebody should tell them how good it feels to be unecumbered by an butt stick." and "Several men in the audience just ejaculated. True story." Damn me for forgetting my binoculars! Feel free to add your favorite comments from the convention coverage below.
A Note From The Editor:
Obviously, these are just some of many (thousands!) of comments that went up on the DNC and RNC threads, and there are many, many others that we either missed or didn't have space to include here. (I would like to put out a request that commenters include more images in their comments - they are hilarious.) And I want to say this: The community of commenters you ladies have created constantly astounds and impresses me, and the passion, intelligence, humor, and creative cussing* on display have made for an inspiring and amazing kick-off to the election season.
*Hortense and I would like everyone to know that, starting next week, there needs to be a serious toning down of nasty name-calling towards our elected officials. And yes, that includes you know who.