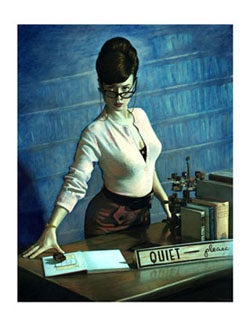 By now you've probably read about Wasilla, Alaska librarian
Mary Ellen Baker,
who
refused to ban "inappropriate books"
at then-mayor Sarah Palin's request, despite the risk of losing her job. But in case you weren't feeling impressed enough with librarians,
Mother Jones
has a
fascinating story
- banned books week begins on September 26, people! - about another badass librarian (actually, a few of them).Here's the story: In 2005, FBI agents demanded that a group of Connecticut librarians on a committee of a librarian association present them with "any and all subscriber information, billing information and access logs of any person or entity". The agents didn't have a court order but something called a national security letter, designed to "protect against international terrorism" and rendering the librarians unable to reveal "to any person that the FBI has sought or obtained access to information or records." Admirably, librarians George Christian, Peter Chase, Janet Nocek and Barbara Bailey decided to fight for their patrons' privacy and challenge the constitutionality of this practice, becoming the unlikely center of an FBI investigation themselves. As Chase explains to
Mother Jones
, "People say very confidential things to our reference librarians...They have medical issues, personal matters. What people are borrowing at a public library is nobody's business." About those national security letters: The
MJ
writers, Amy and David Goodman, describe them as "a little-known FBI tool originally used in foreign intelligence surveillance to obtain phone, financial, and electronic records without court approval." Since 9/11, they've been employed a lot - and, unsurprisingly, often abused. "An investigation last year revealed that the FBI had broken regulations governing NSLs in more than 1,000 cases... Even when an investigation is closed, information gained through an NSL is kept indefinitely in the FBI files," say the Goodmans. And because the four librarians had read the letter, they were now "a threat to national security", legally barred from appearing at the hearings or from speaking publicly, and had to be known as "John Doe" when they engaged the ACLU to challenge the NSLs and lift their gag order. Although the Patriot Act was subsequently reauthorized, soon thereafter the Justice Department dropped the gag order case and was ordered by the Supreme Court to unseal the court documents in the case. Then, last September, a federal court ruled NSLs to be unconstitutional, calling them "the legislative equivalent of breaking and entering, with an ominous free pass to the hijacking of constitutional values." Not shockingly, the Bush administration has appealed the decision. Everyone loves a good "little guy takes on the Man" story, and this is a great one. In combination with Ms. Baker, frankly our profession-crush on the library sciences is growing by the second. Obviously it's not all heroics, but when you consider the cultural importance of the library in our history - it's a real trust, kids. It would have been so easy to have given up records that were,for the most part, probably pretty innocuous - the fact that anyone is willing to put themselves at this kind of risk for principle makes me actually choke up a little bit. (And for the first time, kind of get the point of Banned Books Week, which always struck me at my school as kind of preaching-to-the-choir-ish.) Sexy librarians, indeed!
America's Most Dangerous Librarians
[Mother Jones]
Mayor Palin: A Rough Record
[Time]
Sarah Palin, Book Banner?
[MediaBistro]