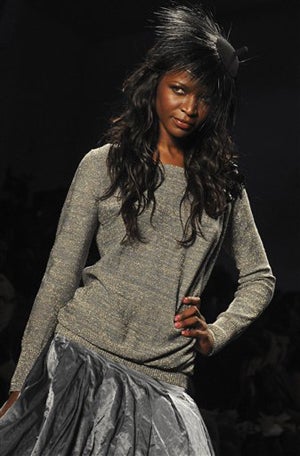 Fashion week kicks off tomorrow, and one thing we'll have our eye on is how many models of color make it on to the runways. New York's Daily News is also wondering if the media attention on the lack of diversity will make an impact on this season's shows. Reporter Patrick Huguenin interviewed several designers, and some seem optimistic: "I was pleasantly surprised this year," says Tracy Reese. "All the talk about it has made the agencies feel freer to show their whole portfolio. For a while there, it was one-note and now they might show a range that goes beyond what people might ask for." Designer Pamella Roland agrees: "Model casting has actually been easier this season," she says. But what about Jill Stuart, who was among the designers who did not use a single black, Latina or Asian model last season?Writes Huguenin:
[Jill Stuart] Company CEO Ron Curtis blamed a dearth of choices, and noted that two of the most popular black models, Jourdan Dunn and Liya Kebede, had been pursued for the show but booked for Calvin Klein in a competing time slot. "Of course we always try to have a diverse cast," Curtis says of this season's show. "but it isn't completed, so we really don't have a confirmation before the show, as things can change up until showtime."
Well
that
doesn't sound promising. (In stark contrast: menswear designer Carlos Campos will debut his women's collection with a lineup of all black models on Monday.) Simon Doonan
joins
those who want to see more diversity; he thinks it's more important than thin models. "The archetypes are extremely thin, but that will change," he says. "A much bigger issue is why they're not using more African-American girls." Meanwhile, the struggle continues. "I saw about 400 girls, again, as I do every year," says Roger Padilha, creative director of MAO PR. "My exact number was 378, from 10 agencies. And of those girls, I'd say that I saw about eight black girls. Some… were not very good, so it isn't like I really have eight black girls to choose from. I have about three or four that made it into my 'yes' pile. So it's frustrating." Sometimes when we call attention to the lack of minorities on the runways, a reader inevitably comments something like: "What does it matter? It's the designer's vision. Maybe his or her vision is of a leggy blonde." Just a reminder: It matters because fashion is
global
. The world looks to New York as a fashion leader. It matters because you shouldn't be not hired for a job because of the color of your skin. It matters because the world makes no sense if a black man can run for president but a black woman can't be seen wearing Jill Stuart on a catwalk.
Issues Of Race And Ethnicity Follow The Runway During Fashion Week
[NY Daily News]
Simon Doonan: Lack of Diversity on the Runways Is a Bigger Problem Than Thin Models
[NY Mag] Earlier:
On The Runways Of Milan, Color Just Wasn't Considered Chic
Fashion Week Runways Were Almost A Total Whitewash
Modeling Matriarch Continues To Demand Diversity On The Runways