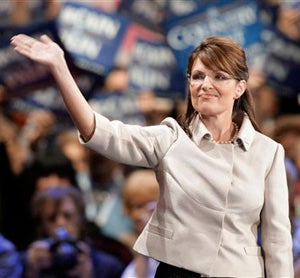 This conventioneering thing is almost done, and, sadly, so am I. Despite the barn burning, roof-raising, political cock-stiffening speech that Alaska governor Sarah Palin gave at the Republican convention last night, I am still tired (and slightly late to my own crappy party) this morning. Luckily, HuffPo blogger
Jason
Linkins
always waits for
me
and has funny things to say; after the jump we talk Palin, Rudy, Palin, McCain, Palin, Huckabee, and more Palin.
MEGAN
: You know what sucks most of all about this? Getting up at 7:50 am is being "late."
JASON
: Ha. Yes. Central Time.
MEGAN
: Or Mountain Time. Or just, I want to sleep in one. single. day. Anyway, so, Denver. Republicans. Palin. Opinions?
JASON
: Well, in the first place with Palin, we can see two things. One, she's fantastically unqualified to be vice-president. Two, what she lacks in qualification she makes up for in sheer raw talent. So she has almost nothing to add to the McCain ticket, and, indeed, the returns will begin to diminish almost as soon as the lights go out tonight. But she has a bright future.
MEGAN
: I mean, I was sitting there last night going, why is being a community organizer a
bad
thing? 4 years ago or 8 years ago, wasn't the GOP all into charitable works? Making up for smaller government through private charity? How does that service to one's community, like, not count? Why was it boo-able?
JASON
: I'm quite sure that Pat Buchanan was savagely beating himself off last night. He was back in his hotel room, moaning, "I'm like Ernest Borgnine! I'MA LIVE FOREVAH!"
MEGAN
: Wow, that was a mental image I didn't need this early in the day. Mostly because I've spent this week surrounded by Pat Buchanans. If I didn't need to vomit when I got up, I sure as shit do now.
JASON
: Yeah, I poured a
lake of hot fire
all over the constant slagging of community organizers last night. I want to point out to the Jezebel readership that on September 11, McCain and Obama are scheduled to appear at a forum on community service and volunteerism.
Call their organizers
. Let em know what McCain thinks about them. What did you think of Palin? Are you feeling it? Ready to do some
aerial wolf hunting
?
MEGAN
: I mean, the roars in the audience were wild, for real, like, I know I was in the press booth at Invesco and couldn't hear them that well, but the Republicans loved her. Also, in a way I couldn't see, apparently, staffers were trying to give Giuliani the hook when he started to run over and he ignored them, bumping the end of Palin's speech out of prime time. Way to ingratiate yourself, Rudy!
JASON
: Yeah, they had to scrap a video montage that was supposed to introduce Palin. Rudy ran over, but the real culprit has to be these three days of substantial schedule changes. No one seems to know which way is up. It's strange, because this convention seems to have taken on the strange, improvisational aspect of the McCain campaign itself, where every morning is a new opportunity to reinvent the goddamned wheel. Yesterday, though, they had much better raw material. Rudy and Palin get the highest marks from me, for grilling up that caribou and serving it bloody. It was a night where even a shitty Romney speech played well, because of the wet, flappy fart that Lieberman laid down the night before. Frankly, I'd be stunned if McCain does as well tonight. I mean, the audience will be its fullest and will be generous with the clapter, but his arrival on the scene last night was sort of comical. Palin was probably thinking, "Hey! John McCain and stuff! We were sorta doing okay without you!"
MEGAN
: Actually, Romney's speech played pretty well live, Lieberman or no Lieberman, it was the first really good speech I've seen him give. Much like Thompson, if he hadn't been so stiff and boring during the campaign, McCain might not being the nominee. But, really, I can disagree with its content, but Palin gave a great rabble-rousing, roof-raising speech last night. Not that it's going to shut anyone up about the scandals. And you should've seen the standing ovation and heard the live cheering when she introduced Bristol. It was a little ironically amusing to watching the hard-core GOPers applaud teenage motherhood.
JASON
: Yeah. Last night, I saw Judith Nathan stand up and applaud the concept of the Palin's lasting marriage, and I thought, "Wow! That must be so WEIRD for her!"
MEGAN
: Man, the shit you miss watching it live! I would've been dying! But, the thing I sort of wondered is whether she's ever going to talk about anything besides abortion and oil. Like, there are other issues in America today, right?
JASON
: Well, McCain has only got so many issues! There's SURGE! And now "Drill, Baby, Drill!" (blame the inept Michael Steele for entering that attack-ad ready phrase into the lexicon) And uhm...what else...there's Paying Lip Service To The Environment. And earmark reform. After that, it is pretty much straight Bush/Cheney. The injection of abortion gets the base motivated, but I don't think Maverick's going to really hype that issue. Palin might, but significantly, the topic was never broached in her speech last night, either. Palin was like, "We're going to lay some pipe!" Which is pretty porny! The guy who comes to fix the White House's copy machines would be in for a real treat in the McCain-Palin White House! And then there'd by John and Cindy's Anger-Banging!
MEGAN
: I mean, I was waiting during the policy portion of her speech for her to talk about something other than energy... and then she didn't.
JASON
: There was a "policy portion?"
MEGAN
: Oh, God, there are so many sex jokes to be made at the GOP convention, it's hard to even know where to begin. Well, the energy thing was the policy portion. I know that because I stopped paying attention and got a little bored. That's usually my clue.
JASON
: Do you think Levi The Defiler (I'm flat stealing that term from a friend) got any ass last night? What was the post-Palin mood like. He was chomping that gum like a motherfucker up there on that stage!
MEGAN
: The women around me in the press box agreed (prior to his arrival on stage) that he was pretty cute. And I'll bet Palin makes them stay in different rooms despite everything.
JASON
: Dude was just an Alaskan redneck poonhound 48 hours ago. Now he's on the airport tarmac having the sacred union of his DNA and Bristol's ova consecrated by the Geezer King. That's a lot to absorb.
MEGAN
: But, as for the mood, I'll bet a lot of Republican girls got laid last night, if they weren't clinging to their purity rings. People were super-jazzed after the speech, especially the men I chatted with. Luckily, it was concert night for the RNC, so between the Charlie Daniels Band and Daughtry, I wasn't obligated to talk to anyone. I did chat for a second with Matt Cooper, though.
JASON
: And how was Matt Cooper? I guess?
MEGAN
: He was nice, he didn't even mention that I didn't look as stupidly sunburned as when we were introduced at Invesco. Anyway, so, do you think Palin hurts or helps McCain? I think her nomination and the controversy — as Mike Huckabee said — served to solidify his nomination and jazz up the base. So it's a way better idea than Lieberman, who's still limper than John McCain's penis.
JASON
: Well, Palin's going to help rile up the base, but I'm of the same mind as Mike Murphy - both his on-camera and accidentally caught on a live mike persona - in that this year may not be a "base" election. He said on Sunday that he'd rather have MORE voters this year than HAPPY voters. I think he's right! And I think Palin played really poorly with independent voters - who Obama's already made some significant gains in the polls with since the DNC - and if McCain doesn't offer something of substance besides DRILL WAR HERO ISN'T MY VEEP HOT TO TROT SURGE MY FRIENDS MAVERICK, he may not make any inroads there. Palin's had a big splash, but her ability to "help" McCain is going to be limited, because she's going in dry dock, won't be giving pressers from what I hear, and sooner or later, it's going to get back to Obama and McCain.
MEGAN
: How ironic would it be if after all this talk of how mean and sexist we all are, they stick her in a closet until the VP debate?