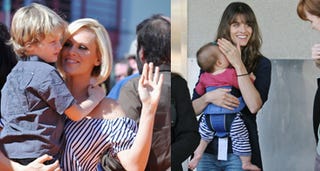 When it comes to vaccinating children,
pro-vaccine
Amanda Peet
has science on her side.
Despite fellow star Jenny McCarthy's
very public claims
that vaccines contributed to her son's autism, a new study from Columbia University reports that there is no link between the measles vaccine and the disorder. Lead author on the study, epidemiologist W. Ian Lipkin, says, "We are confident that there is no link between [the measles vaccine] and autism." According to the
WaPo
, a previous 1998 study of only 12 children with autism, "suggested the onset of their behavioral abnormalities was linked to receiving the MMR (measles, mumps, rubella) vaccine," but this has been thoroughly debunked by the new research.The worry now, says
the Scientific American
, is that fewer parents are vaccinating their children because of the earlier study. "The CDC confirmed 131 measles cases in the U.S. between Jan. 1 and Aug. 1 of this year, more than double the number of cases reported annually between 2001 and 2007,"
Scientific American
reports. Larry Pickering, a pediatrician and immunization expert at Emory University and the CDC tells the
Washington Post
, "Often these [un-vaccinated] children will cluster…If a measles case comes into this cluster, this virus is very easily transmitted. The clustering of people without protection against measles is doubly worrisome."
Study Finds No Autism Link in Vaccine, Digestive Problems, MMR Scrutinized
[Washington Post]
New Study: Measles Vaccine Doesn't Cause Autism
[SciAm] Earlier:
Loose Lips