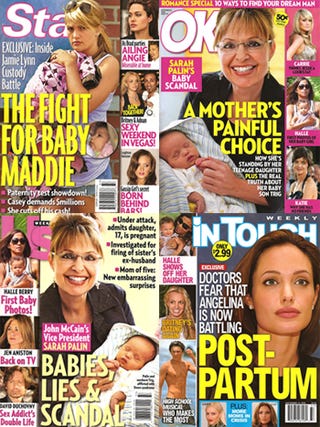 Welcome back to Midweek Madness. Will you look at who joins Angelina Jolie on the weekly tabloid overs this week? Governor Sarah Palin. Senator Barack Obama has already been on the cover of
Us
, but now he can add the
OK!
cover to his résumé. This issue is double sided: Democratic on the front and Republican on the back — but the information is pretty rehashed. As is the story in
Us
. As Rick Klein writes over on an ABC News
blog
: "There is no new reporting here… just a greatest hits from what's out there." That doesn't stop us from "reading" the mags: Intern Margaret assists as we attempt to filter the missives from
Life & Style
,
Star
,
OK!
,
Us
and
In Touch
, after the jump.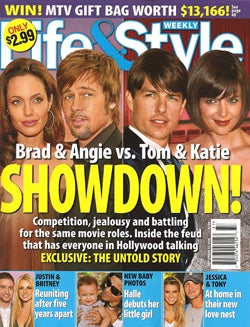 Life & Style
"Brad & Angie Vs. Tom & Katie: Showdown!" This bizarre story is crafted around the fact that when Tom Cruise and Brad Pitt costarred in
Interview With The Vampire
in 1994, Tom was a megastar and Brad was on the rise; now Tom is a falling star and Brad "lives every day like it's the weekend." Apparently since Angelina was being considered for the lead role in
Edwin A. Salt
, when Tom was supposed to have that part,
these couples are having a "secret feud."
So secret
they
don't even know! Katie and Tom have negative Scientology publicity and Angie and Brad are charitable do-gooders, blah blah blah, it's a fabrication and a yawn. Moving on: "Britney Gets Justin Back" is about how the two are recording a duet for her new album. Madonna and Guy are "staying together for the kids" but the same story says "they are feeling very positive about their relationship." Other than that there are just lots of clothes and makeup in this mag. The editors should just have a stylish cover instead of a "news-y" one.
Grade: F (Forwarded religious "joke" email)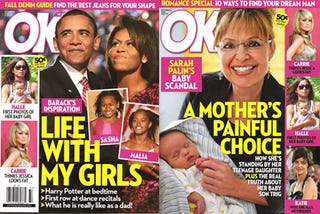 OK!
There are two covers: The front is Barack Obama and his family with the line "Life With My Girls." The back, upside down cover is Sarah Pailn: "A Mother's Painful Choice." Most of the Sarah Palin story is information that has already been reported, though
you may not know that she went to 3 different colleges in Idaho before graduating from the University Of Idaho.
On to Senator Obama: His daughters, Sasha and Malia were jumping up and down the whole time he gave his acceptance speech; backstage, the whole family had a two-minute group hug. The mag says: "Amazing yes, but not out of the ordinary for the tight-knit Obamas, who, according to insiders, are such an all-American family, they almost make the Brady Bunch look dysfunctional." There are quotes from Poppy Montgomery and Wilmer Valderrama, who are impressed with his parenting style. Next: The
OK!
Poll of Who Has The Firmest Melons made us want to die
(Fig. 1). Lastly: Anne Hathaway wants to get back in the dating game — what better place than the DNC? She was seen dancing with actor Josh Lucas but also gave her number to some civilian. The mag suggests that Luke Russert would be a good match for Anne.
Grade: D- (ALL CAPS EMAIL)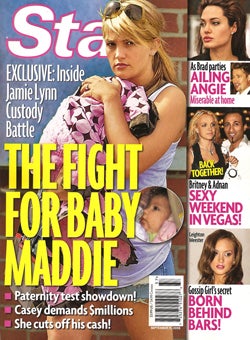 Star
"The Fight For Baby Maddie." Days after her daughter was born,
Jamie Lynn discovered that Casey cheated on her with yet another woman: His former high school classmate Andrea Revels, 20.
(Not to be confused with
Kelli Dawson, 28
who told
In Touch
she slept with Casey when JLS was six months pregnant.) JLS has given Casey a 7pm curfew and he has to be available by cell phone at all times, no excuses. He had to give her all his email and voicemail passwords and she asked him to attend couples counseling with her. Right now JLS is living at her mom's house in Louisiana and not at the house she shared with Casey in Mississippi, so Casey might fight her for money and custody. He definitely doesn't want to lose his meal ticket, since JLS used to pay for everything. Britney and Lynne Spears may try to pay Casey off to get him to disappear. Next:
Gossip Girl
Leighton Meester's mother, father, grandfather and aunt all did hard time in Federal prisons for drug dealing. Her aunt, Judy Haas McNelis was the first woman ever on the US Marshal Service's 15 most wanted list. She smuggled a hacksaw into jail!
Britney and Adnan are back on
: A friend called and Britney said, "We're in bed. And we're going to take a bath together soon." Also inside: There's an entire page devoted to the fact that Eva Longoria's thighs are big. And they're guessing that she weighs a whopping 117 pounds. Mandy Moore has a new man named Andre! He's best known for his appearance in the 2001 comedy
Super Troopers
. Amanda Bynes has broken up with Seth MacFarlane. Madonna's daughter Lourdes was offered a role in
The Secret Life of Bees
but Madge doesn't want her to work until after high school. Lastly:
Michael Phelps has a "secret lover" named Nicole Johnson
, and she has been his girlfriend for a year. She's a former beauty queen from California and she may be moving in with Michael. She was in Beijing!
Grade: D+ (Chain letter email)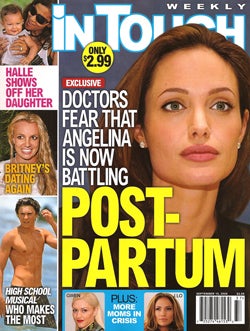 In Touch
"Doctors Fear That Angelina Is Now Battling Post Partum" Basically, unnamed sources claim that
Angie is listless and just wants to nap
lately and doctors who don't treat her say: "Women with twins can be totally overwhelmed" so it
could
be post partum. Meanwhile, she is "isolated" because she lives in the French countryside and has no friends and Brad is off partying in Venice with George Clooney. Part two of this "Moms In Crisis" package is Gwen Stefani's "Baby Weight Panic!"; and part three is "J.Lo Wants Her Life Back!" Gwen is worried she will not lose weight fast enough; Jennifer wants to get back to work. Moving on:
Halle Berry's baby pictures
, OMG. (Fig. 2) Intern Margaret says, "It's pretty cool she didn't sell them. Good for her." Next: Alec Baldwin wanted to kill himself after the audio of him yelling at his daughter was released. He thought about going on a hike in Massachusetts and shooting himself or overdosing in a bed and breakfast. He has a new autobiography coming out Sept. 23, which is why we're hearing about this. Also inside: Those kids from
High School Musical
make millions. Blake Lively is throwing a 21st birthday party with a Jazz age theme: Everyone better come in costume! There's a Gatsby quote on the invitation: "Can't repeat the past?' he cried incredulously. 'Why, of course you can!'" Mandy Moore has a new man named Andre: He's an artist and she is three inches taller. Britney and Adnan are back on! He says she is his soul mate! She's in love! Lastly: Everyone is wearing Clark Kent glasses (fig 3).
Grade: C- (Nigerian Prince email)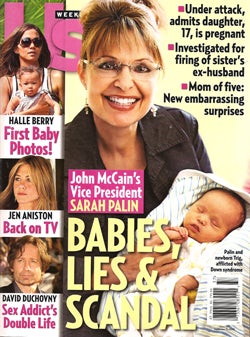 Us
"Babies, Lies & Scandal." This is a round up of all of the gossip that we've heard about Governor Sarah Palin in the last week.
The mag quotes a commenter on Yahoo!: "How can Palin help McCain keep America in control when she can't even keep her own daughter in control?"
There's stuff about her husband, about her involvement in the Alaska Independence Party, which wants the state to seceed from the US, and there's a sidebar of about 5 other controversies that aren't even covered in the article. We really love the picture of her wearing an incorrectly punctuated T-shirt that reads, "I may be broke but, I'm not flat busted." It's right above the shot of her next to a bleeding caribou that's been shot in the face. (Pro life!) Moving on: There are cute pix of Halle Berry's baby, plus a chart of "Couples Who Pray Together Stay Together" (Jess Simpson & Tony Romo, Keisha & Justin Chambers, Spencer & Heidi).
An interview with Isis King, the transgendered contestant from America's Next Top Model
: "I used to wear silicone [breast enhancers] for shoots, but it's too hot with all that extra stuff. Most models don't have breasts anyway! I would also tape [my penis] at first, but since then I've found new ways to make everything smooth. What I use is like a thong. I made it myself with a piece of denim." She plans to have a sex change by her 25th birthday.
Grade: C (Sarah Palin rumor email)
Fig. 1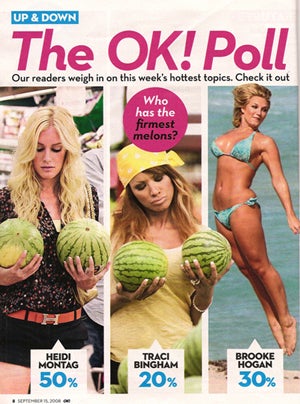 Fig. 2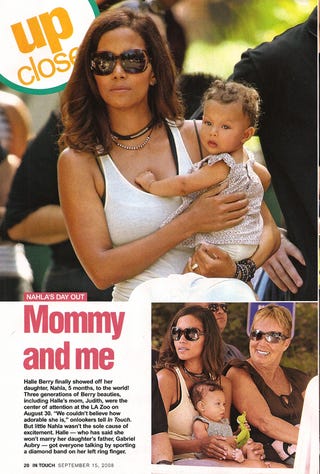 Fig. 3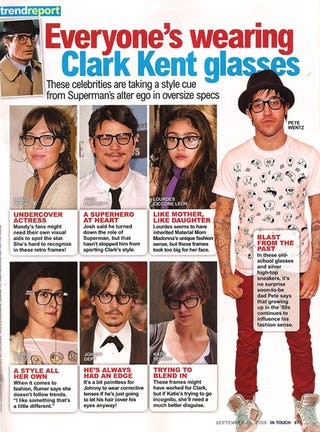 How Palin is Playing In The Supermarket Aisles
[ABC News]