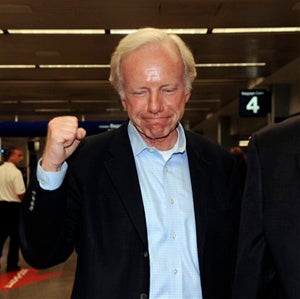 Joementum is in the house! The man that helped elect Al Gore to office and eight years ago addressed the Democratic convention as its Vice Presidential nominee is flipping off the people who voted for him across this country and many of the people who voted for him in Connecticut. You know you want the blog.
10:58 ET:
God bless you, and he walks off stage. It's time for a prayer. I mean, for real, they're going to give a prayer and then this night will be over. Or, at least this live blog will be. But I don't blog prayers. Except to say: HA, watch the Republicans file out before the prayer. The Dems didn't do this actually. Kind of an interesting contrast. Make of it what you will. It's time to drink.
10:56 ET:
"There are no ordinary times, and John McCain is no ordinary candidate." By the way, you might not agree with John McCain on every issue, but he'll always play it straight with you. Except when he's changing his mind and stuff, but he was straight at the time.
10:55 ET:
He wants to speak directly to Democrats and Independents watching. Someone shouts out "That's okay." He thinks that there are a lot of them who are thinking about voting for McCain.
10:54 ET:
Rags on Lindsay Graham. What does Joementum have again the closeted?
10:52 ET:
"What we need right now is national unity." Can we unite in disliking Lieberman?
10:51 ET:
Two mavericks! Drinking time!
10:50 ET:
Stop! Palin time.
10:49 ET:
"Eloquence is no substitute for a record." What about, if like Lieberman, you don't really have either? I mean, not a good record anyway... The fuck, now he's going to get people to applaud Bill Clinton? I am down the rabbit hole here.
10:47 ET:
John McCain is his own man. He sure ain't mine.... Whoa, Lieberman brings up McCain's hated immigration bill. Not so much applause there.
10:43 ET:
"Being a Democrat is important, but it's nowhere near as important as being an American." Or keeping your promises to supporters, constituents and donors. Or not betraying your friends. Or not acting like a petulant child. Or winning a Senate seat when Democrats decide to award someone else the nomination in a primary. Being a Democrat is less important than a lot of things to Joe Lieberman.
10:41 ET:
"What is a Democrat like me doing at a convention like this?" German reporter to my left says, "Good question." I say: feeding your own ego and sense of betrayal. He says, because country matters more than party. I think I'm right.
10:39 ET:
"It shouldn't take a hurricane to bring us together like this." Um, Joe, if you missed it, you're the only Dem on the agenda
10:39 ET:
Gulf Coast, blah blah. Wow, he really does sound as whiny as people who make fun of him.
10:38 ET:
Welcome, Benedict Arnold.