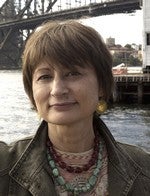 Catherine Millet, who chronicled her many orgies and other sexual escapades in
The Sexual Life of Catherine M.
, is "as jealous as any faithful wife,"
according to Reuters
. Her new book,
Jour de Souffrance (Day of Suffering)
, describes the pain she felt when she found photos of her longtime partner engaged in the kind of sexual activities she herself used to enjoy. Yet more proof that, as William Saletan
said
, "One isn't the number of people you want to sleep with. It's the number of people you want your spouse to sleep with."