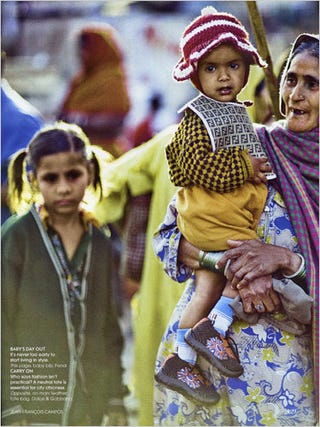 Many of you sent us the link to the
New York Times
story about the August issue of
Vogue
India, in which a woman missing teeth holds a child wearing a $100 Fendi bib. In another shot, a toothless, barefoot man holds a $200 Burberry umbrella. Another photograph shows family of three riding a motorbike, with the mother holding a Hermès Birkin bag retailing for $10,000 or more. Since much of India is incredibly poor, critics are upset that the "real people" were used as models to feature things they probably will never afford. While there were some readers who didn't find the
Nylon
shot of Beth Ditto
playing cards with a maid
offensive, or the
Darjeeling Limited
-esque
Free People catalog
, plenty of people are outraged by this
Vogue
India kerfluffle. I gotta ask: What do you expect?Columnist Kanika Gahlaut called the editorial spread "not just tacky but downright distasteful." But it's coming from a magazine which had a blonde wedged between two brown women
on its debut cover
. It's a Western-owned fashion magazine in a country that values
Western beauty
, where
skin lightening
is big business. But, you're thinking, when people are destitute, why photograph them holding an Hermès bag? Says
Vogue
India editor Priya Tanna: "Lighten up." Her argument: "You have to remember with fashion, you can't take it that seriously." The
Times
points out that around 456 million Indians live on less than $1.25 a day. But there is an emerging market in India; there are women who shop, love luxury brands and read magazines. So. What kind of editorial photo shoots
should
Vogue
India have? Only the kind with
gorgeous
, languid model indifferent to the designer duds she is sporting? Should "real" Indian people
not
be pictured in the magazine? Not to be jaded, but it's tough to get outraged when we live in a country where
Vogue
has a history
of being offensive. Fashion is about exclusivity, which means it's almost always inherently about how you, the fashionable, are "better." To be better, you must have an "other" to be better than. And so exclusivity means someone is being excluded. And
Vogue
has no problem shilling a
$64,300 24K-gold mink coat
— like the bib, by Fendi! — in a country where
37 million
people live in poverty. True, they didn't shoot the coat on a woman from
Ziebach County, South Dakota
, but maybe doing so would alert readers to the fact that Ziebach County, South Dakota is the poorest county in the U.S.? In any case, the number of Americans who
can
afford the coat is marginal, and it doesn't matter; it's a business mired in advertiser relationships and fantasy. Most magazines have problems with "real people" and luxury goods. Even
Marie Claire
used a
Bhutanese man
to "model" a $395 hat. It would be great if Indian
Vogue
, American
Vogue
and lots of other ladymags could figure out how to entertain women who are interested in fashion without offending, alienating or exploiting people. India has a tumultuous history of poverty, exploitation and colonialization, and a poor kid in a Fendi bib doesn't exactly help heal wounds. Maybe the real question is: Should
Vogue
India even exist?
Vogue's Fashion Photos Spark Debate in India
[NY Times] Earlier:
Using A Woman Of Color As The "Background" In A Photo Shoot: It's Not Okay
Free People: Someone Watched The Darjeeling Limited Before Booking This Photo Shoot
Vogue India Debuts With Australian Blonde On Front, Bleeding Heart Inside?
MagHag India
'White Beauty' Has An Ugly Message
Dear Anna: I'm Outsourcing Your Job To Vogue India. 8 Pictures That Explain Why…
Is Vogue's "LeBron Kong" Cover Offensive?
Marie Claire & The 75-Year-Old Bhutanese Model