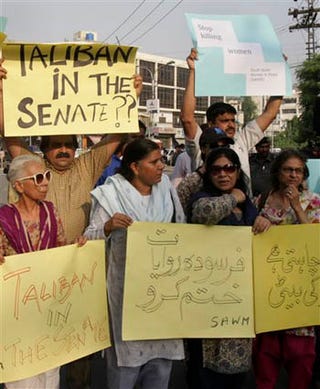 Newspapers across the world are beginning to report on a spate of
"honor killings"
that were perpetrated in the rural Balochistan province of Pakistan in July. According to
UPI
, the five women — three of whom were teens — were buried alive as punishment for "willfulness." The
AP
is reporting
that they were killed "after the women defied tribal elders and asked a civil court to marry at least three of them."
Muslimah Media Watch
(MMW)
points out
that even though the killings occurred in July, the international media only picked up the story because a local blowhard senator, Sardar Israrullah Zehri, defended the honor killings as "our tribal custom" and sparked parliamentary protests by women's groups in Islamabad."Notice in both stories, the focus is on what the senator said (or didn't say),"
MMW
notes. "The horrific murders of these women happened in July, over a month ago…There was nothing in major Western news outlets about this. But as soon as a senator says something horrible about the incident, there are three stories within a week. As if what the senator said in defense of the murders is more newsworthy than the murders themselves." The bloggers at
MMW
also point out that the western media's coverage of these women ignores the strength of these women who defied cultural norms to seek happiness. "The women were not meek or timid…they were starting a revolution of their own and gave their lives for the cause. In order for their deaths to not be in vain, news outlets must recognize their bravery and their defiance instead of making them look like weak and submissive little girls," blogger Fatima writes. The BBC is now reporting that
two bodies have been exhumed
, and that those women were shot and buried without a shroud. Despite the
UPI
's news that they were buried alive, these women appeared to have been dead before they were put in the ground. Police have arrested six people in connection with the murders so far, and these people are said to be related to the dead women. Sadly, two older women who tried to help the would-be brides were also kidnapped, according to the
BBC
. Despite the unfortunate comments of Sardar Israrullah Zehri, the Leader of the House, Mian Raza Rabbani said, "We condemn the heinous act and assure the House that a complete report on the incident would be submitted."
Burying Girls Alive Draws Pakistan Rebukes
[UPI]
Pakistan Opens Investigation Into 'Honor Killings' Of 5 Women Who Tried To Choose Own Husbands
[AP]
Mouth to Mouth: How Pakistani Senator's Comments Overshadow the Real Story
[Muslimah Media Watch]
Pakistan Women's Bodies Exhumed
[BBC]