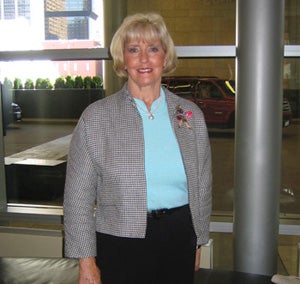 It's not terribly often that you get to interview a feminist icon. Well, I mean, I guess it's getting more common for me, but still, it's pretty cool. So when my colleague over at
Glamocracy
asked me if I wanted to interview Lilly Ledbetter, I was like, "Hell, yeah." Don't recognize her name? If you ever have to sue for unequal pay, you will want to be thanking her — her case against Goodyear spawned Congressional legislation, a mention in nearly every speech this week and a speaking slot at the Democratic convention on Tuesday night.She spoke at the DNC not because she's an old political hand, but because she's the poster woman for the unfairness of pay equity. Lilly was paid less than her male colleagues for 19 years while working for Goodyear and only found out near the end of her career from an anonymous tipster how badly she'd been screwed.
She sued and won
, but the Supreme Court ruled last year that, since she hadn't filed her case within 180 days from when Goodyear
started
discriminating against her, she wasn't entitled to a dime.
Legislation that would reverse that ruling is pending in Congress
, but John McCain has said that
he doesn't support the bill
and
the bill is being subjected to a Republican filibuster
to keep it from passing.
MEGAN
: Is this your first convention? Were you politically active before your case?
LILLY
: This is my first convention. Being politically active is a more recent thing. Recently, with my experiences, it's gotten very personal for me. Because it really does make a difference.
MEGAN
: Why did those experiences make you politically active?
LILLY
: When I found out [that she'd been discriminated against by Goodyear], I thought about just moving on, letting it go, retiring, but I just couldn't. So I went to court, to federal court with the lawsuit and I won $3.8 million which the court immediately reduced to $300,000. Then Goodyear took it all the way to the Supreme Court and they ruled against me 5-4. And so I lost my case at the Supreme Court. And what they said to me was, basically, those 5, they changed the law. So what I'm fighting for now is to change the law back to how it was before so that when people find that they are discriminated against they can do something about it.
MEGAN
: What would your advice me to young women to avoid what happened to you, besides being politically active?
LILLY
: Be very knowledgable about the companies you work for, their pay scales and their treatment. If it's a young person inside a corporation, it's good to pick up a mentor from within the company or even someone outside the company that's aware of the company's operations.
MEGAN
: When John McCain said that he was opposed to the legislation that would change the law back, the bill that's known as the Lilly Ledbetter bill, and he said that we could fix sexism in the workplace and pay equality by giving women better training, how did that make you feel?
LILLY
: That proved to me, without a shadow of a doubt, that John McCain was out of touch with reality. Because, I've met a lot of women that have been discriminated against, but one stands out to me. She was a medical doctor in New York and she ran the pediatric wing at the hospital but she was paid less than the two male doctors that worked under her. And when she complained to the hospital, they cut her title and they cut her opportunities to work outside the hospital. Now, John McCain's not right because, in that case, you can't get much more education than being a pediatric doctor. John McCain is out of touch with reality. Related:
TAP Talks with Lilly Ledbetter
[The American Prospect]
Lilly Ledbetter
[Matthew Yglesias]
McCain Dismisses Equal Pay Legislation, Says Women Need More 'Training And Education.'
[Think Progress]
ACLU Disappointed in Senate's Failure to Consider Fair Pay Legislation
[ACLU]