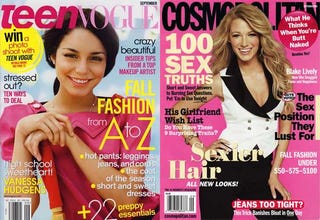 Today, in the last of our matchups in the September "expensive shit" smackdown, we bring you a battle of the generations.
Cosmopolitan
was throwing out her back with new acrobatic sex positions when
Teen Vogue
was just a twinkle in Anna Wintour's eye. But can even the best-selling women's magazine in the world stand up to a snotty adolescent with unfettered access to Mama
Vogue
's credit cards? Will the Dara Torres of ladymags beat out her teenage competition, or will
Vogue
's Satanic offspring finally manage to take down her slutty 122-year-old cougar aunt? Find out after the jump, and check back later today for the winner of our Expensive Shit Charity Case contest.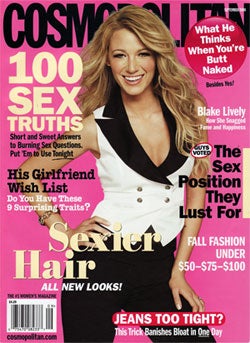 Cosmopolitan
Apparel: $14,128 (most expensive item: Gucci studded motorcycle jacket, $5,395; least expensive: Forever 21 wide-waistband mini, $19.80; average price: $239) Accessories: $12,375 (most expensive item: Gucci embellished ankle bootees, $995; least expensive: Forever 21 necklace, $6.80; average price: $174) Beauty: $1,184 (most expensive item: Elizabeth Arden Prevage Anti-Aging Treatment, $155; least expensive: Suave Vibrant Shine Mist, $2.49; average price: $25) Other:
Cosmo
only listed one "other" item, the board game 'Them and Us', $19.99, which "pits men against women by having the teams answer questions about topics that are stereotypically male and female.
[Some of the items listed on the card "Things Men Like to Buy" are alcohol, magazines, and meat. Under "Things Women Like to Do" we have eat chocolate, be put on a pedestal, and watch daytime TV.]
Total Shit: $26,548
Average: $148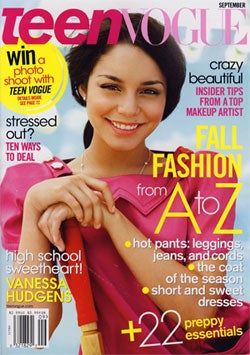 Teen Vogue
Apparel: $33,377 (most expensive item: Dsquared2 shirt, $1,395; least expensive: American Apparel T-shirt, $15; average price: $276) Accessories: $36,761 (most expensive item: Tiffany sapphire and platinum necklace, $1,750; least expensive: Hue tights, $11; average price: $278) Beauty: $1,223 (most expensive item: Jean Paul Gualtier Ma Dame Eau De Toilette, $87 for 3.3oz; least expensive: Jessica Nail Polish in Windsor Castle, $7; average price: $45) Other: $553 (most expensive item: Fujifilm Finepix Z20FD digital camera, $180; least expensive: Uniqlo umbrella, $8; average price: $92)
Total Shit: $71,914
Average: $251 Mama
Vogue
has trained you well, grasshopper! Winner:
Teen Vogue