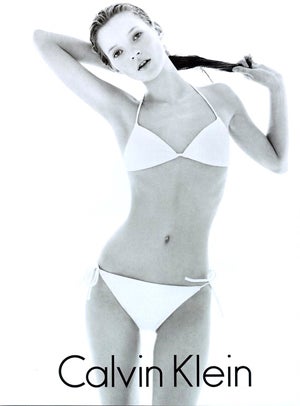 "Much — so very much — has been written about the fashion world's repulsive obsession with thinness," writes Hadley Freeman in
today's
Guardian
. "But the predictable truth is that when it comes to skinny models, nothing has changed. Nothing. The belief in the industry remains that thinness is symbolic of wealth and aspiration. Thus the more luxurious the label, the thinner the models." Except the industry may finally have a "revolutionary" in its midst. Someone who is finally willing to talk about the thin fetish. It's none other than the "waif" herself, Miss Kate Moss. In the next issue of
Interview magazine
where, by the by, she appears
mostly nude
, Kate Moss admits she was starving most of the time she was doing runway and she never
wanted
to be so thin.Remember that when she started, with those famous
shots
by Corinne Day in
The Face
, Kate Moss was 15 years old. (She says of that shoot: "Corinne just wanted to bring out everything that I hated when I was 15. My bow legs, the mole on my breast, the way I laughed.") But by 1994, she was earning $2.6 million a year with contracts for Gucci, Louis Vuitton and, of course, Calvin Klein. Her rail-thin body sold jeans and fragrance, and became an "Obsession," to say the least. Previous supermodels, like Cindy Crawford and Naomi Campbell, were in possession of a more
"robust"
physique
. But Kate Moss ushered in a new style. It started out as shocking, but everyone adjusted, and looking back, she doesn't even seem so skinny anymore! So. Thin was in, and it
stayed stylish
. Ms. Freeman writes: "In the next issue of
Interview
magazine, Moss admits that at times she was too thin: 'When I was doing shows ... nobody ever fed me. I didn't eat for a long time. Not on purpose ... I remember standing up in the bath one day, and there was a mirror in front of me, and I was so thin! I hated it. I never liked being that skinny.' Hilariously, the journalist, confirming all cliches about the fashion press, interrupts: 'I didn't think you were all that skinny.' But Moss stands admirably firm: 'I remember thinking, I don't want to be this skinny.'" When a tipster sent us the link to the
Guardian
story (which was already on our radar) with the comment: "Kate Moss is the new Che Guevara. Ahem." I sort of rolled my eyes. But actually, the tipster, Hadley Freeman and Kate Moss are right: The fashion industry needs a revolution. And the chances of things being changed by someone from the outside are — forgive me — slim. Only someone who has been granted access into the inner sanctum, who is well-respected, who has worked in the trenches, who knows all the players and knows the game can actually make an impact. Will a post-coke scandal, open-about-starving-herself Kate Moss be the one? Can Kate Moss be a revolutionary in whole new way?
Only The Clotheshorses Can Buck Fashion's Thin Fixation
,
Fashion Industry Made Me Too Thin, Says Kate Moss
[Guardian]