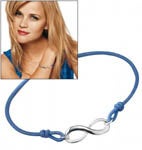 Avon "brand ambassador" Reese Witherspoon is heading down to Sao Paulo to celebrate the success of the company's
women's empowerment bracelet
, 1.5 million of which have been sold. In a press release, Avon said, "The Avon Women's Empowerment Bracelet was created to raise awareness about the need to speak out against the violence that affects women globally." Great mission, but do you also need to sell a
cheap looking bauble along with it?
• Axl Rose met Kelly Osbourne at a Hollywood party and according to Heatherette designer Richie Rich,
Axl kept
"leering at her and saying, 'I want to fuck you!'" Classy, Axl, classy. • Did Sarah Larson cheat on George Clooney with
a media mogul?
Anonymous sources say, indeed! [
UPI
,
ONTD
,
MollyGood
]